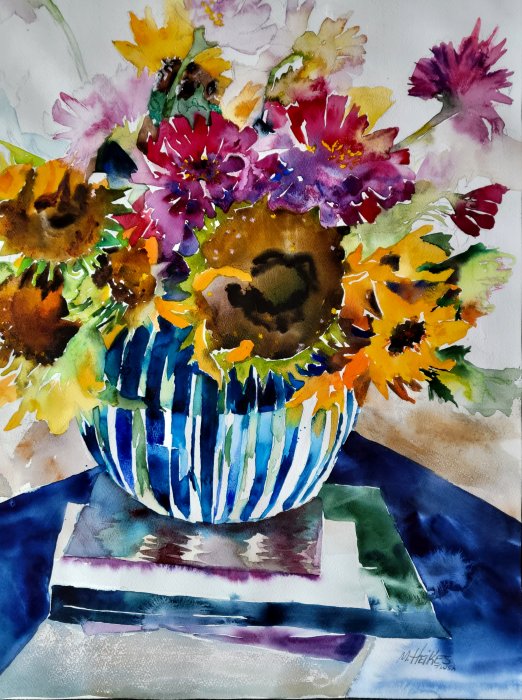 Late Summer
Watercolor
Flowers are a great inspiration for me, and I cut and arrange many bouquets from my garden. I favor large flowers and their bold colors. This piece includes fuchsia zinnias and golden sunflowers in one of my special vases.
My main objective is a pleasing design combined with saturated pigments. I use lots of water and usually begin by painting individual shapes with large brushes with plain water and then dipping into the wet shapes with fresh pigments. I continue painting, allowing the pigments to blend and run on the paper. This creates many unusual and delightful color combinations that cannot be achieved by mixing colors on the palette.
I also keep an eye on the values and shapes as I paint, making the necessary connections to neighboring floral shapes. I also added some Daniel Smith watercolor ground to the background before painting which adds some texture underneath parts of the composition.
Want to Buy It?
Format
Size
Price
Original

12″ × 24″

Silver metal frame (24.5" x 29.5") with white and off-white mats

Print

8″ × 10″

Actual image size is 5″×10″.

Print

11″ × 14″

Actual image size is 7″×14″.

Print

16″ × 20″

Actual image size is 10″×20″.
*Frame and mats not included unless noted. Shipping costs are for the continental U.S. Ordering help & policies.