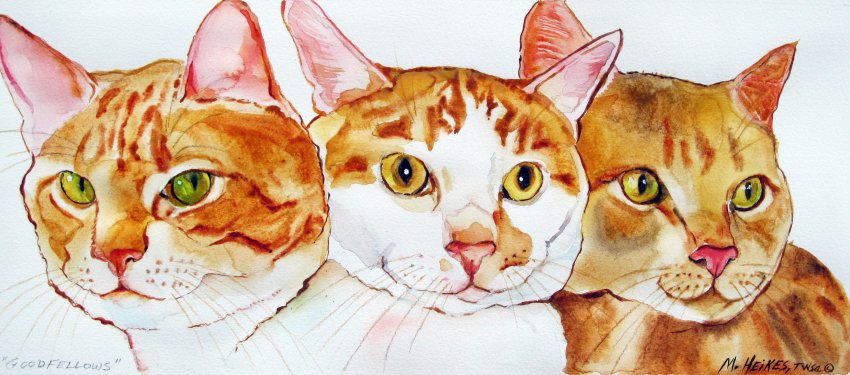 Goodfellows
Watercolor
I have been working on a series of cat paintings which I started a few years ago. The nice thing is, I have plenty of models available and a large file of reference photos of all the felines we have had over many years.
In this particular study, I have combined three separate photos of our ginger boys Vincent, Toulouse, and Jasper. Toulouse is actually my daughter's cat and brother to Vincent and Jules. Their markings and expressions are different, which is why I have to work from separate photographs. They would never actually sit still next to each other!
I have used my favorite watercolor paper for this painting, Fabriano cold press. It is a soft paper that accepts the pigments into the fibers better than most others. And I prefer the oblong format to accentuate the composition.
Want to Buy It?
Format
Size
Price
Original

16 ½″ × 6 ¾″

Flat copper wood moulding frame (21.5" x 11.75") with light gray mat

Print

8″ × 10″

Actual image size is 4.09″×10″.

Print

11″ × 14″

Actual image size is 5.73″×14″.

Print

16″ × 20″

Actual image size is 8.18″×20″.
*Frame and mats not included unless noted. Shipping costs are for the continental U.S. Ordering help & policies.