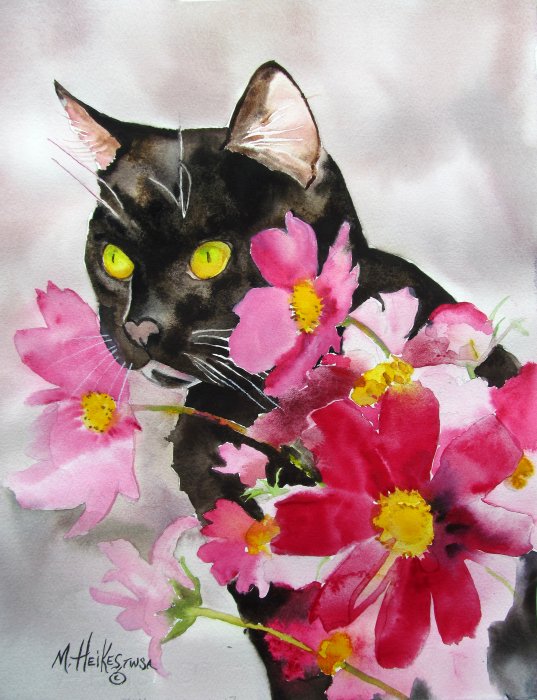 In The Pink / Black Cat & Cosmos
Watercolor & gouache
Cats are always a great inspiration to paint. I find their facial expressions and color markings expressive. We have twelve models available. They are delightful to paint but it is almost impossible to get them to sit still for a decent pose to photograph them. I have sketched them from life but they do move around quite a bit in their sleep.
For this watercolor, I had been photographing my fresh bouquet of cosmos and Sally got up on the table to sniff the flowers and actually sat still for a while. I snapped numerous of pictures of her behind the bouquet. A few of the photos were a good enough reference to work from. I sketched the composition on 140# cold press watercolor paper. I usually use Fabriano Artistico, but also use Arches on occasion. The paper is stretched first, then dried. I began painting the cat first and wet small sections to work on so the pigments do not bleed around the rest of the paper. I allow the pigments blend and mix right on the paper. I find the color variations are more interesting this way instead of mixing them on the palette.
I used a variety of blacks and brown pigments, including Daniel Smith and Graham. Working wet-in-wet softens the shapes and is great when painting animals. While these areas were drying, I wet sections of the petals on the flowers and their centers. A variety of yellows were used — cadmium, gamboge and yellow ochre. For the flowers I used quinacridone pink and fuchsia and dioxizine purple. Occasionally I will use a hair dryer to speed up the drying, especially when it is humid,  but usually I wait until the colors dry naturally. For the background, I wet the paper around the cat and floral shapes and used leftover puddles of neutral colors on my palette to blend softly around the cat and flowers.
Want to Buy It?
Format
Size
Price
Original

11″ × 14″

Flat black wood frame (14" x 18") with white mat

Print

8″ × 10″

Actual image size is 7.86″×10″.

Print

11″ × 14″

Print

16″ × 20″

Actual image size is 15.71″×20″.
*Frame and mats not included unless noted. Shipping costs are for the continental U.S. Ordering help & policies.