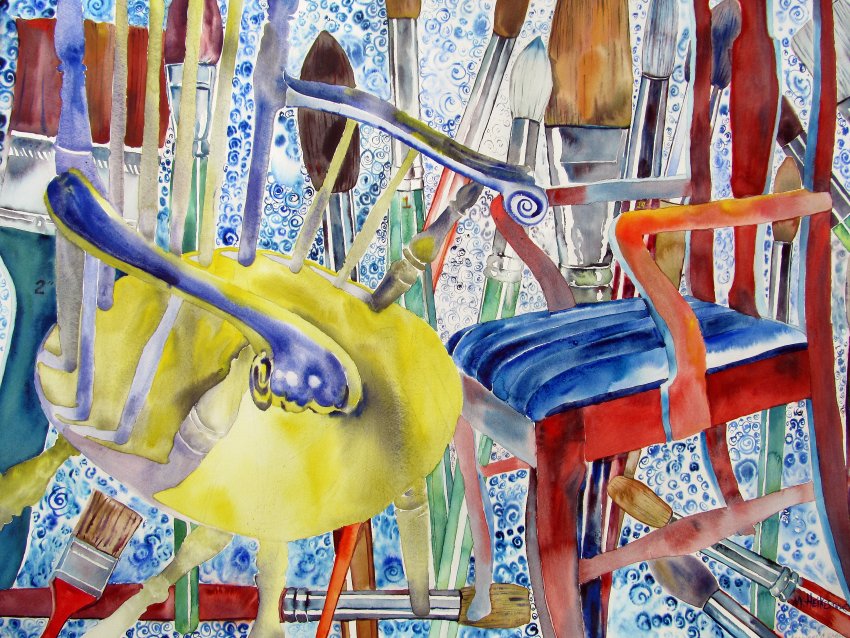 Soldiers & Sables
Watercolor
In October, I had the itch to paint some chairs again, but to add a twist to the composition. Previously, most of my designs were with jungle plants, but I decided enough of the greenery! Although I do find myself doing plant life frequently, it is good to do something totally different. In this case, I used what is right in front of me. Like most artists, I have a wide variety of paintbrushes. The challenge was designing an interesting composition.
For some reason, I always begin by painting the positive shapes of the chairs using the wet-in-wet technique. My intention was to limit the palette and decide which colors would be best. I recently acquired some new pigments and wanted to try them out. These were the Jack Richeson's thalo blue, pyrrole red, ultramarine violet and bismuth yellow. They are very nice! I have not found an undesirable pigment yet!
I had not planned the background until the last minute, which is a big no-no, but it works for me. It usually occurs to me what to do with it during the process of painting; I find it better to think about it for a while before going in too early and messing up the whole design.
Exhibited in Rockies Western National 2014
Want to Buy It?
Format
Size
Price
Original

30″ × 22″

Metal frame (36" x 28") with white mat

Print

8″ × 10″

Actual image size is 7.33″×10″.

Print

11″ × 14″

Actual image size is 10.27″×14″.

Print

16″ × 20″

Actual image size is 14.67″×20″.
*Frame and mats not included unless noted. Shipping costs are for the continental U.S. Ordering help & policies.