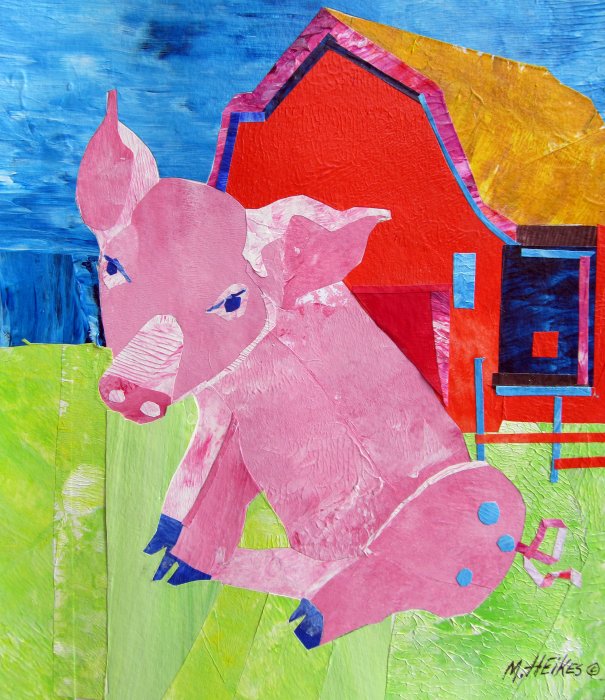 Green Acres
Acrylic collage
After working on larger paintings, I decided to do a smaller piece in collage. These can be done in a couple days; my full sheet watercolors seem to take longer for me. I like to complete a piece in one sitting so that I feel like I have accomplished something!
Animals are favorites of mine, especially farm varieties. I used a sketch of this cute piglet from an old sketchbook, and began with simple, pink shapes for him. I loved his big, floppy ears and snout. While I was in the process of gluing the pig shapes, I decided to add a red barn and some fencing. I ended up piecing a bunch of lime green paper scraps, which adds some dimension and texture interest in the foreground. I gave him a long, curly tail and some blue spots on his rump for the final touch. There were a few more shapes added after that — the barn needed a door for contrast against the piglet, and some defining strips on the eaves.
Want to Buy It?
Format
Size
Price
Original

7″ × 8″

Black metal frame (13" x 14") with red and blue mats

Print

8″ × 10″

Actual image size is 8″×9.14″.

Print

11″ × 14″

Actual image size is 11″×12.57″.

Print

16″ × 20″

Actual image size is 16″×18.29″.
*Frame and mats not included unless noted. Shipping costs are for the continental U.S. Ordering help & policies.