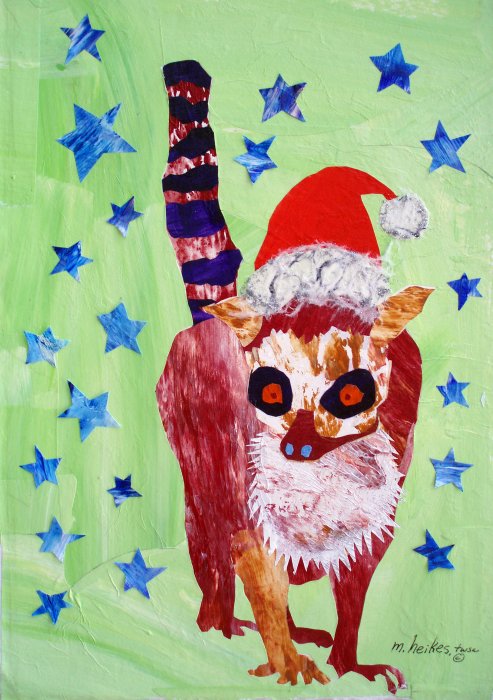 Kris Kringle Lemur
Acrylic collage
This is an addition to my new holiday designs highlighting wild animals. Animals are very entertaining and I thought a lemur would be kind of different for Christmas.
The basic color is a reddish brown with the purple-ringed tail and mask on his face, with blue nostrils. I chose the lime green background to accent the red Santa hat; using complementary colors makes it pop! I imagine he would tear down our Christmas tree as quickly as our felines do! A good way to add some lively holiday spirit to your activities!
Want to Buy It?
Format
Size
Price
Original

7 ½″ × 11″

$165.00

|
Print

8″ × 10″

Actual image size is 6.82″×10″.

$20.00

|
Print

11″ × 14″

Actual image size is 9.55″×14″.

$30.00

|
Print

16″ × 20″

Actual image size is 13.64″×20″.

$45.00

|
*Frame and mats not included unless noted. Shipping costs are for the continental U.S. Ordering help & policies.