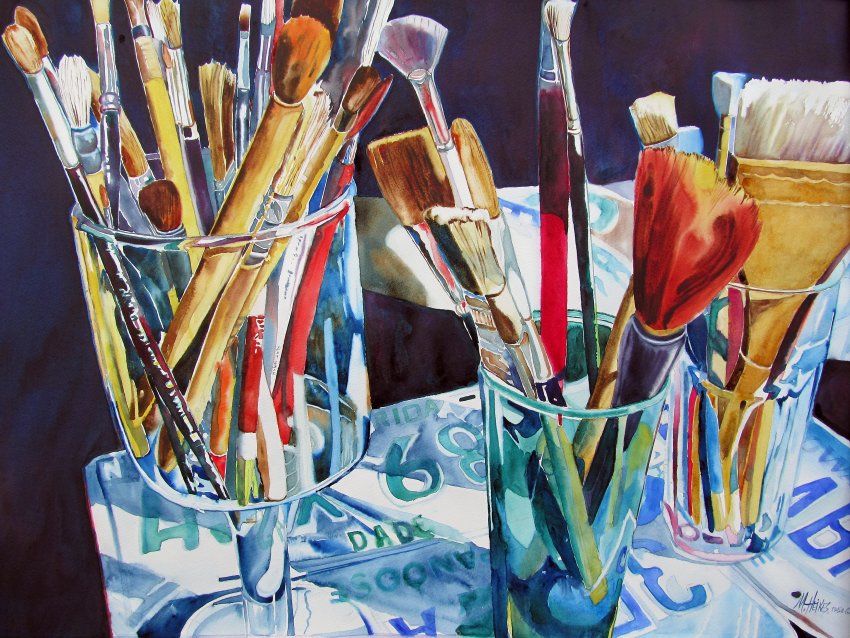 License to Paint #2
Watercolor
I decided to compose another watercolor using my large assortment of brushes with old license plates. I wanted something different for an upcoming competition, although I did set up some of my palettes to start with the brushes. We artists seem to accumulate supplies of all kinds.  The design was playing around in my mind for a long time. I had to wait for the right day with the sunlight in mid-morning time and where I could set all my brushes outside in direct sun. I had to make many trips carrying the stuff up from my studio and took about fifty different shots. That's when I decided to set it up inside on a table with the sunlight streaming in our front windows, as it was very windy outside.
The dark background was serendipity because I'm a bad photographer most of the time, but I'm lucky to have a reference photo to work with.  It would be impossible to set up a still life inside and leave it up with three indoor felines trying to help me. So the photo I worked from was the only one with its lighting, and I chose it because of the stark contrast.
I painted all the different varieties of brushes; the Chinese hakes and squirrels or goat hairs, the bristle-type oil brushes, and the numerous flats and rounds of my watercolor career. These are only the tip of the iceberg! And the transparent glasses are a carryover from the traditional still lifes I have painted since 2006. The Florida license plate signifies the beginning of my painting career, and the two years we spent in Miami.
I began with a detailed drawing, as I believe in the structure underlying the painting. For me, drawing is a kind of spiritual awakening where time stops, and time to plan a strong composition and think about how I will begin painting, the colors and use and the value pattern. Anything can happen while I am painting; color changes, softening edges, adding shapes and simplifying — my intuitive process at work!
Want to Buy It?
Format
Size
Price
Original

30″ × 22″

Metal frame (28" x 36") with white and off-white mats

Print

8″ × 10″

Actual image size is 7.33″×10″.

Print

11″ × 14″

Actual image size is 10.27″×14″.

Print

16″ × 20″

Actual image size is 14.67″×20″.
*Frame and mats not included unless noted. Shipping costs are for the continental U.S. Ordering help & policies.