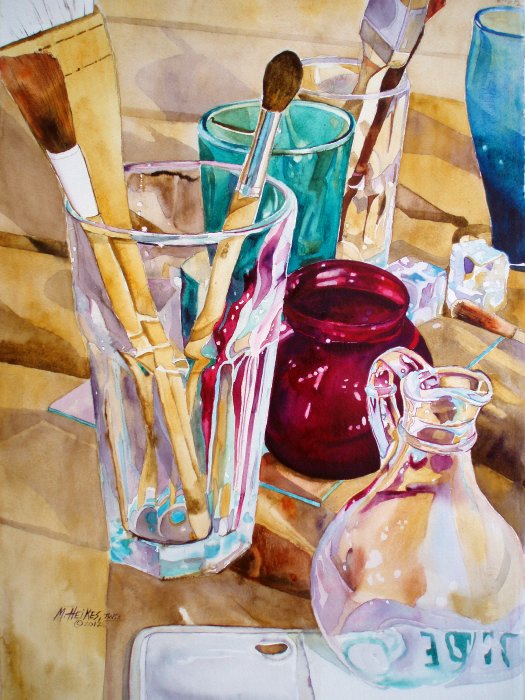 Hake & Squirrel
Watercolor
What inspires me to choose certain elements in my still life paintings? It seems I'm always looking for the unusual and unique. Instead of using my tried and true goblets, I grabbed some plain, old drinking glasses from the cupboard and added my Chinese sumi-e brushes. I decided the emerald glass needed its complement, so the ruby vase sits between that and a cruet and my old Miami license plate in the foreground. I knew it would come in handy some day! The objects were set up outside in the beautiful sunshine!
Exhibited 2013 National Watermedia Oklahoma
Exhibited in Watercolor II:Paper and Pigment 2012, The Foundry, St. Charles
Want to Buy It?
Format
Size
Price
Original

15″ × 20″

Metal frame (20" x 24") with double mats of white and periwinkle.

Print

8″ × 10″

Actual image size is 7.5″×10″.

Print

11″ × 14″

Actual image size is 10.5″×14″.

Print

16″ × 20″

Actual image size is 15″×20″.
*Frame and mats not included unless noted. Shipping costs are for the continental U.S. Ordering help & policies.