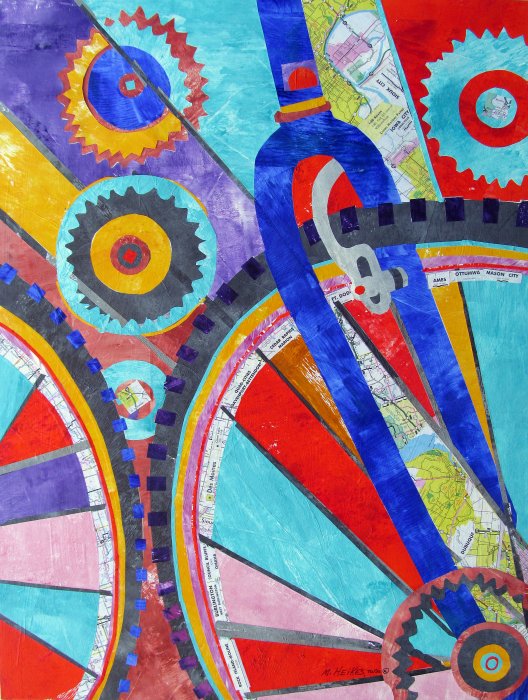 Biking #5
Acrylic collage
Another bicycle design! I am inspired by the geometric shapes of the bicycle. When working in a series, it is a challenge to come up with a fresh and interesting composition. I zeroed in on the front of the bike and focused on the gears and spokes. The Iowa map came into play too — cities are around the wheel edge: Rock Island, Burlington, Council Bluffs, Sioux City, Des Moines, Quad Cities, Cedar Rapids, Marion, Ft. Dodge, Ames, Ottumwa, and Mason City.  These pieces of maps leads the eye around the design. The pigments used are ultramarine blue, cadmium red, purple, cadmium yellow, teal, lavender, and gray.
Want to Buy It?
Format
Size
Price
Original

18″ × 24″

Gold Metal frame (24" x 30") with single white mat

$1,280.00

|
Print

8″ × 10″

Actual image size is 7.5″×10″.

$20.00

|
Print

11″ × 14″

Actual image size is 10.5″×14″.

$30.00

|
Print

16″ × 20″

Actual image size is 15″×20″.

$45.00

|
*Frame and mats not included unless noted. Shipping costs are for the continental U.S. Ordering help & policies.