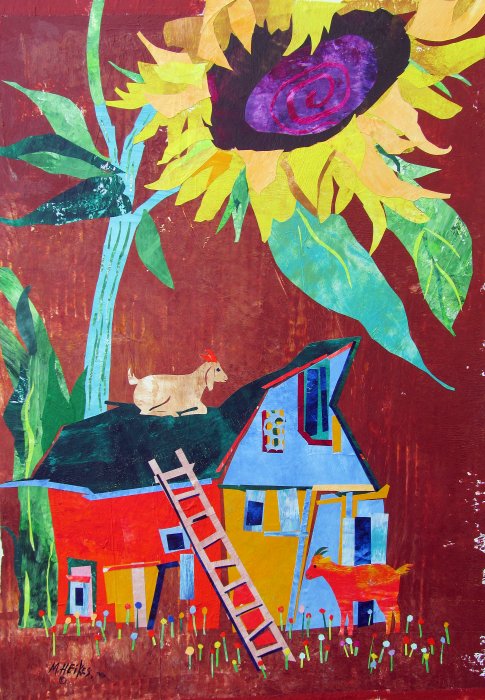 Sunbathing Goats
Acrylic collage
This design took a complete 180 from what I thought would be a perfect flower garden. At the start I chose a dark burnt sienna background — a different color for me, and I added the bold sunflower on top. Then I was at a standstill for many weeks.
Last week I envisioned a much different composition — thanks to our three cavorting goats! The barn was added, then the goats and the ladder. The final design is humorous and makes one laugh. If you know goats, they love to dance and climb to the top of things. The giant sunflower reminds me of the Jack & the Beanstalk story. Perhaps the goats will climb that next!
Want to Buy It?
Format
Size
Price
Original

14 ½″ × 21 ½″

Oak wood frame (22" x 28") with single white mat

Print

8″ × 10″

Actual image size is 6.74″×10″.

Print

11″ × 14″

Actual image size is 9.44″×14″.

Print

16″ × 20″

Actual image size is 13.49″×20″.
*Frame and mats not included unless noted. Shipping costs are for the continental U.S. Ordering help & policies.