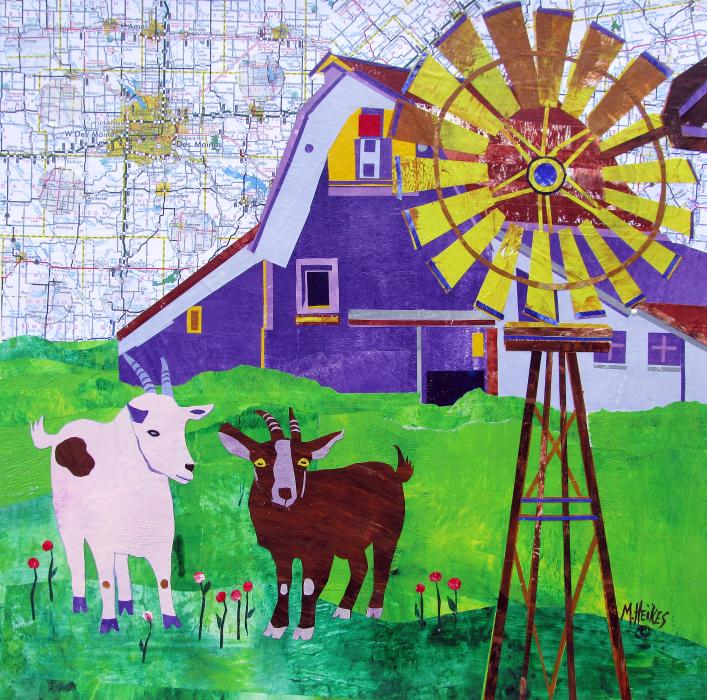 Friendly Goats on Red Zinnia Farm
Acrylic collage
I am inspired to paint the old weathered barns in the Midwest. They are full of character. They are perched on hills or tucked into the landscape just waiting to be sketched and painted. The shapes of the windows, doors, vents, roof all interest me.
Then there are the animals! They add interest to the composition. I begin with a drawing because it starts my creative juices flowing. For this painting I have used one of my reference photos, because most of these barns are no longer standing. I also combine photos to create a dynamic design.
I create my collages using my hand-painted acrylic papers. These are prepared in advance and I have a large stock of colored papers ready to use. I use Golden's heavy body paints because they are thick and, when combined with other colors, I achieve a variegated texture that adds a painterly quality to my collages. Large dollops of acrylic are placed at various spots on my paper, then rolled out and mixed with a brayer. The colors blend on the paper and I do not overly blend them because it would end up muddy. The design is penciled in on either a 300 pound paper or hardboard. An X-acto knife is used to cut the shapes of the barn and I edit as I work across the paper.
Windmills are a popular subject matter, so one was added to the foreground. I am a colorist and I used my artistic license to create the purple barn and bright yellow windmill. These are complementary colors and create a color vibration. The bottom left corner felt empty to me and I contemplated adding some animals. Goats seemed the perfect choice, since we have three of them. I sketched them and added the shapes. It still needed something so I cut out some flower shapes around the goats. I used an Iowa road map for the sky shape to complete the Midwest composition.
Want to Buy It?
Format
Size
Price
Original

21″ × 21 ½″

Silver metal frame (28" x 28")

Print

8″ × 10″

Actual image size is 8″×8.19″.

Print

11″ × 14″

Actual image size is 11″×11.26″.

Print

16″ × 20″

Actual image size is 16″×16.38″.
*Frame and mats not included unless noted. Shipping costs are for the continental U.S. Ordering help & policies.