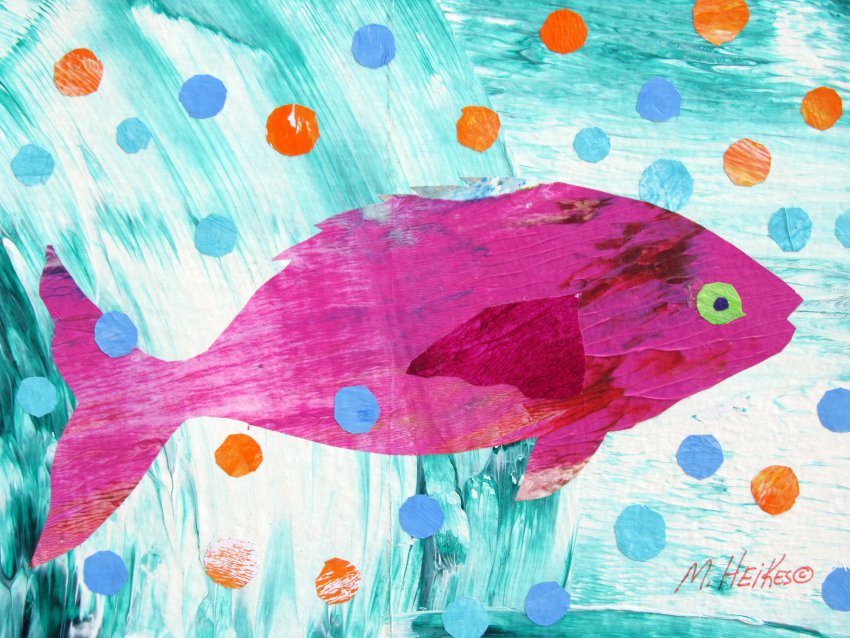 Swimmy
Acrylic collage
This is my first piece of the new year. I decided to do a few pieces similar to the Daily Painters' group. They create a petite artwork every day, usually in the 6" x 6" format. I find it difficult to work so small and prefer the larger sizes. For this piece, I chose a sketch of a tropical fish from my sketchbook. The secret to doing smaller pieces, of course, is to simplify the design and use fewer shapes. This is also a challenge for me — being a very realistic watercolor painter, all those details entice me to paint them all! So, a simple pink tropical fish swimming amid the bubbles.
Want to Buy It?
Format
Size
Price
Original

7 ½″ × 5 ½″

No frame with single white mat

$45.00

|
Print

8″ × 10″

Actual image size is 7.33″×10″.

$20.00

|
Print

11″ × 14″

Actual image size is 10.27″×14″.

$30.00

|
Print

16″ × 20″

Actual image size is 14.67″×20″.

$45.00

|
*Frame and mats not included unless noted. Shipping costs are for the continental U.S. Ordering help & policies.