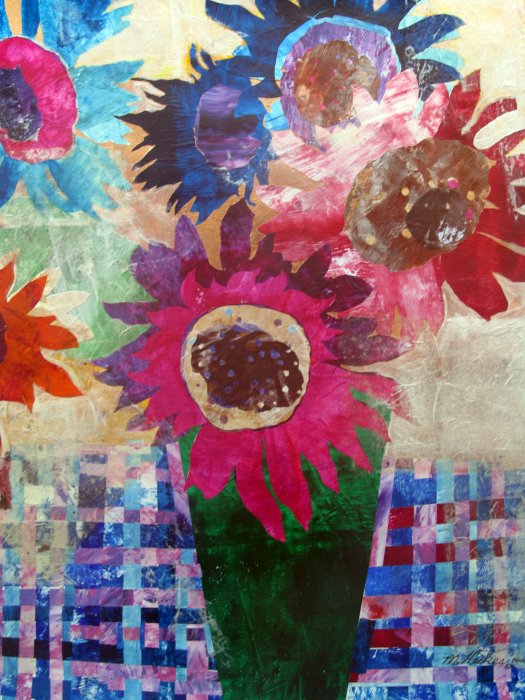 July Sunflower Bouquet
Acrylic collage
I positively love sunflowers! A friend calls me the sunflower queen. Sunflowers are gorgeous large flowers and make wonderful bouquets. I do not know how many paintings I have done of them — lots! There are so many different varieties. This year we have planted at least four different types.
In this composition, I decided to play around with the color combinations and do something a little different, though I am partial to warm, yellow pigments.  I chose various reds, pinks, blues and purples of my acrylic papers. For the table design, I wove strips of my papers for an interesting geometric twist to complement the round petals. For added depth I added a couple varieties of rice papers to mute the sections around the petals that were getting a bit "noisy".  I find the possibilities are endless.
I begin my collage designs by doing a loose contour drawing; I do not feel bound by the pencil lines and welcome any changes that may occur along the way. Although I am mainly a transparent watercolor artist, I began using this collage technique in 1995 when I felt the need for a thicker pigmentation and bolder colors in my work. My goal was to eliminate details and simplify the design using big shapes. Since I began this technique, many people have asked me to do commissioned work for them.  This is the ultimate challenge, and I believe helps me grow as an artist working on subject matters that I probably would not have thought of doing.
Want to Buy It?
Format
Size
Price
Original

18″ × 22 ½″

Mottled green/gold wood frame (22" x 28") with single white mat

Print

8″ × 10″

Print

11″ × 14″

Actual image size is 11″×13.75″.

Print

16″ × 20″
*Frame and mats not included unless noted. Shipping costs are for the continental U.S. Ordering help & policies.