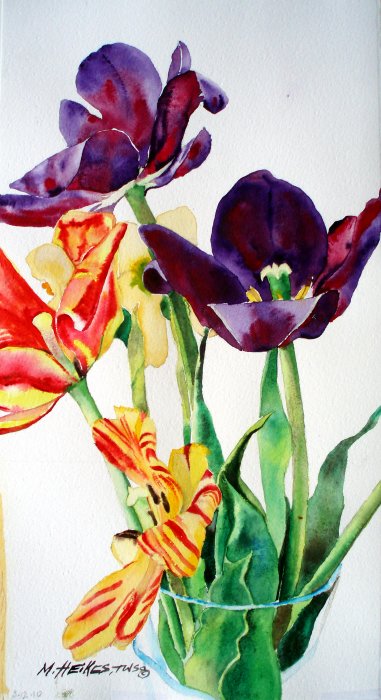 Velvety Tulips
Watercolor
Because of our unusually long and snowy winter, I have been anxious to paint a spring subject.
These are some tulips and daffodils from my garden bouquet photographed a couple years ago. I was inspired by the gorgeous hues and non-formal arrangement of the flowers in a simple glass tumbler. They were photographed outside, and once I started taking lots of shots, the flowers naturally opened up. This allowed me to include all portions of the flower's center. The challenge was using an odd scrap of paper for the composition instead of a standard size, which usually seems bland — the paper size and cropping of the photo actually emphasized the design. This design includes a purple and red tulip and a variegated yellow/red tulip.
Want to Buy It?
Format
Size
Price
Original

7 ½″ × 14 ¾″

Amber brushed Florentine frame (15 x 22 1/4 framed size) with yellow and dark yellow mats.

Print

8″ × 10″

Actual image size is 5.08″×10″.

Print

11″ × 14″

Actual image size is 7.12″×14″.

Print

16″ × 20″

Actual image size is 10.17″×20″.
*Frame and mats not included unless noted. Shipping costs are for the continental U.S. Ordering help & policies.