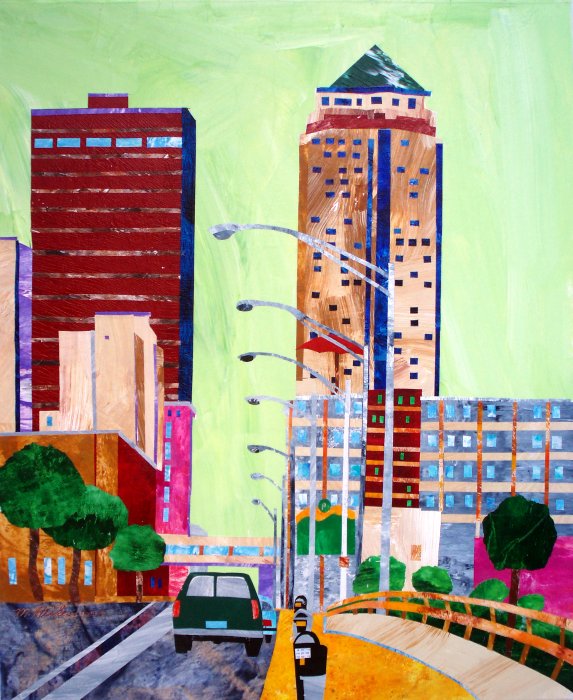 View From East Village, Downtown Des Moines
Acrylic collage
This is a more recent view of downtown Des Moines from a photo I took last summer (2009) while visiting the city. What impressed me was the skyline with the taller buildings set against the shorter ones and the lampposts leading the eye into the city. You can see the perspective of the rounded bridge over the river, the parked vehicles and parking meters all converging into the heart of the city.
It was a cloudy day and I decided to do something different with the sky color, painting it a special lime green instead of a gray. I have done another, but different, view and decided the trees added a fresh, natural element to contrast with the building shapes and perspective leading into the painting.
I also used the textured paper with pink oil pastel for the road, which I feel adds some linear opaqueness to the foreground. To the people who live and work there, the view is immediately recognizable, with the red umbrella of the insurance company represented if you look closely. This painting can also be personalized; your license plate number can be added to the parked vehicle in the foreground.
Want to Buy It?
Format
Size
Price
Original

15 ½″ × 19″

Framed in silver ornate wood frame (22 x 26) in light gray and medium gray mats.

Print

8″ × 10″

Actual image size is 8″×9.81″.

Print

11″ × 14″

Actual image size is 11″×13.48″.

Print

16″ × 20″

Actual image size is 16″×19.61″.

Notecard Set

7″ × 5″

Package contains 6 designs of your choice on folded cards. Actual image sizes vary. Blank inside. Envelopes included.
*Frame and mats not included unless noted. Shipping costs are for the continental U.S. Ordering help & policies.