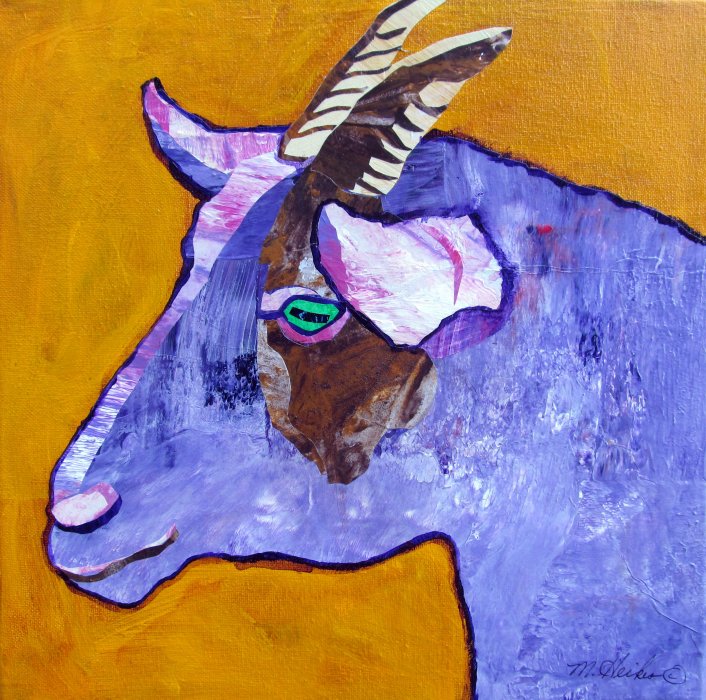 Verne, The Pygmy Goat
Acrylic collage on canvas
My favorite subject matter with collage materials is animals. I was inspired by our new pet, Verne, who is a pygmy goat. He's not good at standing still and posing for me. He does all kinds of antics instead. I have to take a lot of shots while he gets too close to the camera lens.
I usually start with a loose sketch and concentrate on the big shapes that define the animal. Small details add to the character too. I began this collage by painting the entire background with Quinacridone Gold and Diaylide Yellow. The canvas support is an experiment. I usually use a 300 lb. watercolor paper, but wanted to try something different. The main focus is the goat with his distinctive features of the horns, long ears, whiskers, and the strange rectangular pupil of his eyes.
Want to Buy It?
Format
Size
Price
Original

12″ × 12″

Print

8″ × 10″

Actual image size is 8″×8″.

Print

11″ × 14″

Actual image size is 11″×11″.

Print

16″ × 20″

Actual image size is 16″×16″.
*Frame and mats not included unless noted. Shipping costs are for the continental U.S. Ordering help & policies.