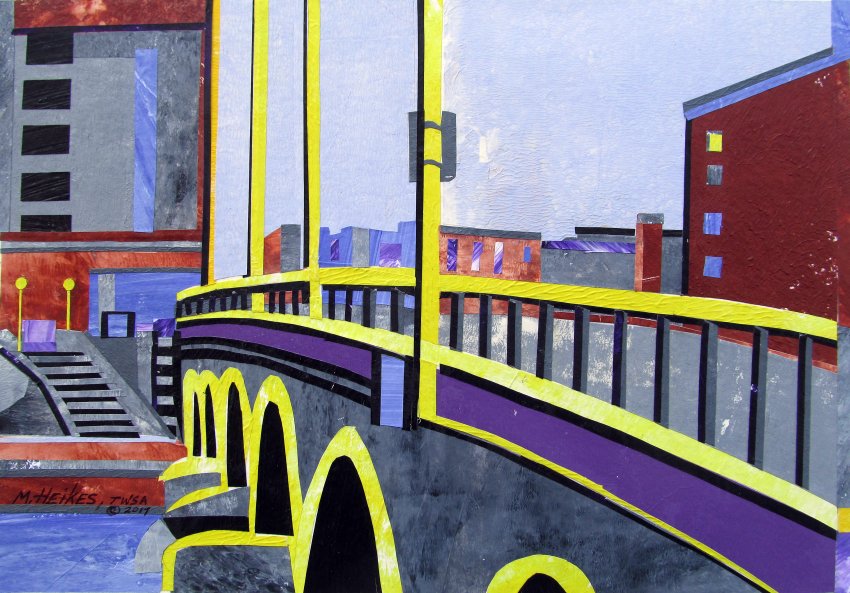 Des Moines Bridge, River Walk Downtown
Acrylic collage
I am inspired to draw and paint the cityscapes of Des Moines, and have photographed many interesting views. Working from my photos, I completed a series of pencil and colored pencil drawings in a smaller format, 11 x 14. These include both vertical and horizontal formats. I enjoy doing the sketches first to get my creative juices flowing.
When taking the reference photos, I do not notice all the details until I start sketching the shapes. Since these photos were taken outside in December, it was quite chilly and breezy and I snapped as many views of the city while walking. In this particular landscape, the bridge is a cropped shape, capturing the gentle curve of the structure. I edited out the parked vehicles along the bridge — using artistic license — creating a stronger and simpler design. The focus was on the curved shape leading the viewer's eye into the picture. Other interesting details were the river itself, in the lower left section to the composition. The vertical light posts add contrast to the horizontal placement of the buildings.
Other small details I added were the round light fixtures along the stairs leading to the river walk area. When I began choosing colors for this design, I decided that the colors used in the sketch should be changed. They were light blues, browns, yellow and reds. The predominant colors used for this design were lavenders, purples, yellow, grey, red oxide, and black. I feel this is a successful design because of the bright, textured hand-painted pigments I use. I believe the underlying pencil design is the fundamental structure of all my work and planning the composition at the beginning leads to a stronger, well-thought out design. Collage is a wonderful medium because it can be edited and reworked throughout the process of creating the work of art. I love using bright colors and often alter my photograph, which is quite dull compared to the finished piece.
Want to Buy It?
Format
Size
Price
Original

12″ × 8 ½″

Silver metal frame (16" x 12") with white mat

Print

8″ × 10″

Actual image size is 7.08″×10″.

Print

11″ × 14″

Actual image size is 9.92″×14″.

Print

16″ × 20″

Actual image size is 14.17″×20″.
*Frame and mats not included unless noted. Shipping costs are for the continental U.S. Ordering help & policies.