Two at a Time
October 28, 2008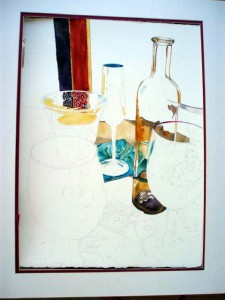 Just to keep things interesting, I have been working on two different paintings simultaneously. I believe this pushes me to keep my work fresh and uniquely distinctive.
I began this week on the watercolor of the glassware still life, which includes the tall amber-colored bottle. This bottle was also a part of my teapot series a few years ago. I was attracted to its shape and the unusual color. I set the still life elements up in our gazebo in strong morning sunlight. Something new to the setup is the dark cobalt blue goblet.
I usually compose with my camera and take many photos from different angles. Frequently I move things around while taking photos.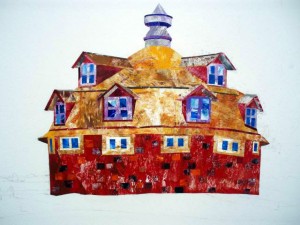 Alternating back to the barn collage of the Wickfield Pavillion in Cantril, I have added the turquoise sky to add contrast to the red brick of the bottom of the barn. This complementary color makes it sing!
I will need to decide on the shapes and colors of the foreground next. As I work, more ideas come to mind. I always strive for a colorful end result and dynamic design with plenty of texture.