Garden Bouquet
October 25, 2008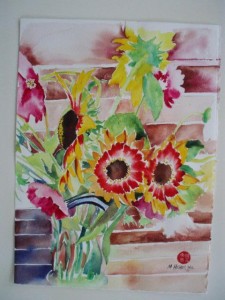 This week I set aside the barn collage after working a bit on the roof shapes and windows, and thinking about a good sky color to complement the barn textures.
I completed a quick watercolor painting of some of my last garden flowers of the year — pink cosmos and red & yellow gaillardias. There are still a few survivors out there.
This bouquet was painted with bamboo brushes in the Chinese sumi-e manner. I worked from my photos, having set the bouquet outside on my garden bench. The result is a spontaneous, fresh watercolor painting — a remembrance of summer!