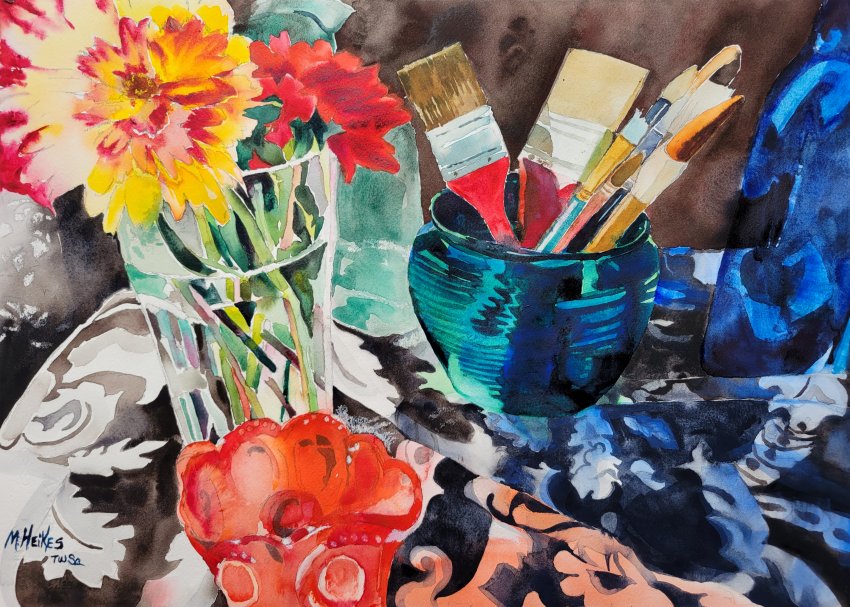 Dahlias, Creamer & Brushes
Watercolor
This watercolor was designed with a number of elements I have in my collection to set up still lifes. I gather these props and rearrange them until the composition is pleasing. This time I set up them up outside on our front porch, taking advantage of the natural daylight conditions. The elements I chose were a fresh dahlia from the garden, a red Carnival glass creamer, a dark green bowl with my art brushes, and a midnight-blue bottle, and I arranged them on a decoration black and white fabric.
My main focus was combining the elements and colors together to create a harmonic and unified design. This was a challenge because of the unlimited palette I chose and the variety of shapes. I loved the Matisse-like bold fabric shapes which are repeated in the creamer, flower and bottle reflections. The warm and cool colors move the eye around the painting, as well as the dynamic shapes of the cloth, creamer, flowers and bowl of brushes. The blue bottle is a favorite of mine. The dark values anchors the composition and give the painting depth.
Want to Buy It?
Format
Size
Price
Original

20″ × 14 ½″

Crimson metal frame (24" x 20") with single white mat

Print

8″ × 10″

Actual image size is 7.25″×10″.

Print

11″ × 14″

Actual image size is 10.15″×14″.

Print

16″ × 20″

Actual image size is 14.5″×20″.
*Frame and mats not included unless noted. Shipping costs are for the continental U.S. Ordering help & policies.