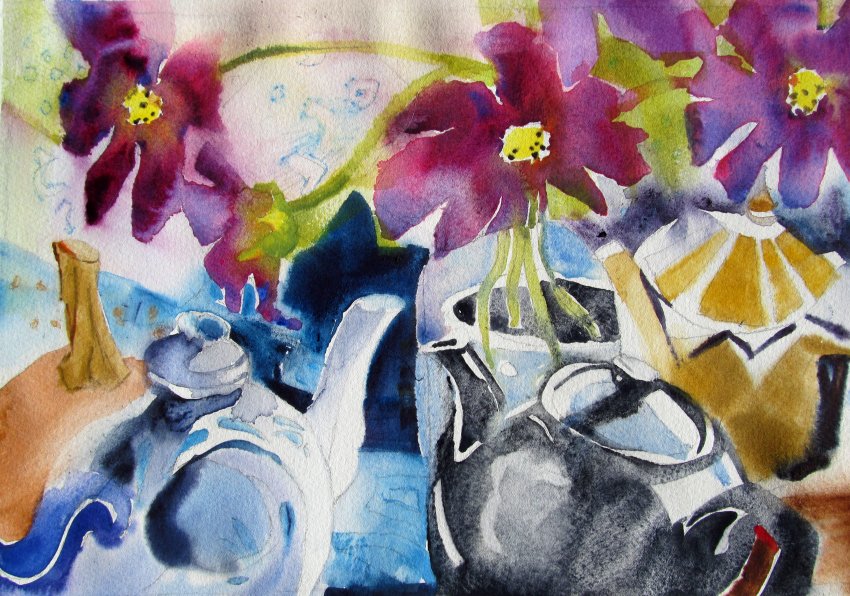 Teapot Series #22
Watercolor
This painting was the first one I completed since our move in September. It has been difficult to return to my creative mindset after the disruption of unpacking and setting up my new studio. Thoughts and ideas were whirling in my head and the idea was to start with a small format. I had the perfect frame handy and a plain white mat, so I sorted through some of my still life material and photographs.
I always begin drawing to get my creative juices flowing, and it jump starts the ideas. While I sketch out shapes and combine elements, I consider values and elements of design. I combined a number of elements from my photographs and was challenged to create a dynamic design on a quarter sheet sized paper — I am much more comfortable using larger sizes, such as 22 x 15 or 22 x 30.
I completed a drawing and used Prismacolor pencils to experiment with colors for the painting. Once that's done, I transfer the drawing to my Fabriano Artistico watercolor paper, which is a soft paper that I favor. I usually wet it first to loosen the sizing. 
In this composition I sketched three teapots, the donut shape, the traditional black teapot and a British hexagonal variety my mother gave me from her trip to England. For the background I added an antique bottle with my garden cosmos flowers. For fun, I tucked a pumpkin behind one pot.
I usually begin by re-wetting the shapes I am painting and work around the design, connecting the shapes and allowing the pigments to blend by themselves. Using this method usually results in some amazing color mixtures and works better than mixing on my palette. I was pleased with my first painting results since summertime, and I'm ready to return to my daily painting schedule.
Want to Buy It?
Format
Size
Price
Original

12 ¾″ × 8 ½″

Walnut metal frame (16" x 13") with white mat

Print

8″ × 10″

Actual image size is 6.67″×10″.

Print

11″ × 14″

Actual image size is 9.33″×14″.

Print

16″ × 20″

Actual image size is 13.33″×20″.
*Frame and mats not included unless noted. Shipping costs are for the continental U.S. Ordering help & policies.