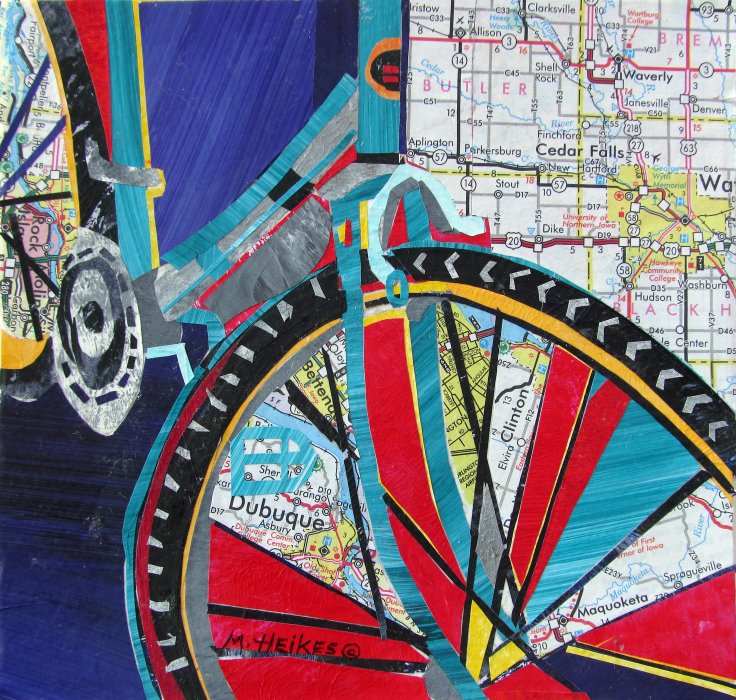 Biking / RAGBRAI #9
Acrylic collage
My inspiration for this abstract bicycle design are the geometric shapes. I have found that working in a series inspires my creativity, in challenging me to look more closely at my subject matter. This series began many years ago when a friend suggested bicycles would be a popular design because of the yearly RAGBRAI ride across Iowa.
I used my photographs because I am able to work more quickly in the composition process than drawing from life, which I usually do for my still lifes. I cropped my photograph, zeroing in on the front angle of the bicycle. One of the trademarks of my collage process is utilizing pieces of Iowa maps. Each design is unique in color, shapes and dynamic compositions.
Want to Buy It?
Format
Size
Price
Original

7 ½″ × 7 ¼″

Black wood frame (12" x 12") with white and gray mats

Print

8″ × 10″

Actual image size is 8″×8.28″.

Print

11″ × 14″

Actual image size is 11″×11.38″.

Print

16″ × 20″

Actual image size is 16″×16.55″.
*Frame and mats not included unless noted. Shipping costs are for the continental U.S. Ordering help & policies.