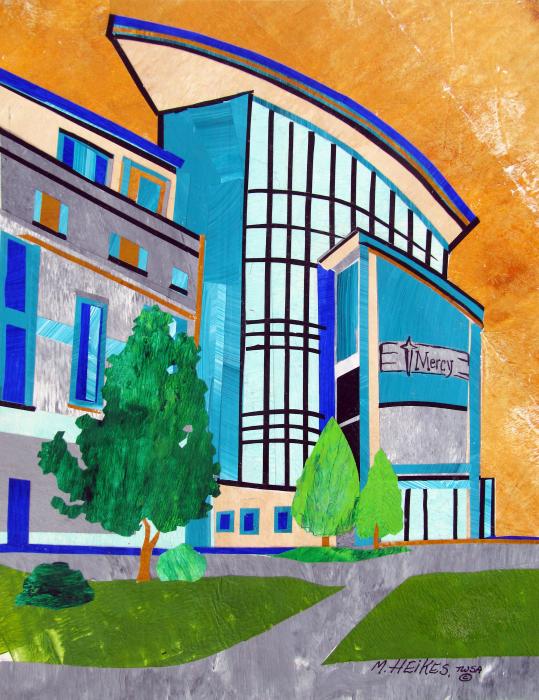 Laurel Street – Mercy Clinics
Acrylic collage
The main impetus for this design was the popularity of the subject matter, and modern architecture. I also wanted to do a smaller format because of the many details.
I photographed the section of the building which interested me and worked from one of these angles. I begin by sketching the basic elements and choose the colors that I feel would be best. I have found it is best to limit the palette — I used a teal, ultramarine blues and hand mixed grays. All my collage papers are painted ahead of time and I have a wide variety of shades and tints of all colors. Occasionally I have to paint a color that I do not have in my reserves.
After penciling in the design, I usually start anywhere on the design and work my way around the paper — working with shapes and relationships between color patterns. I use either a white glue or acrylic gloss medium to adhere the papers to my 300 pound watercolor paper. This piece was completed quickly, in approximately two weeks. After finishing I brush on a couple coats of UV varnish and let it dry completely before framing.
Want to Buy It?
Format
Size
Price
Original

9″ × 12″

Flat black wood frame (14" x 18") with white and gray mats

Print

8″ × 10″

Actual image size is 7.5″×10″.

Print

11″ × 14″

Actual image size is 10.5″×14″.

Print

16″ × 20″

Actual image size is 15″×20″.
*Frame and mats not included unless noted. Shipping costs are for the continental U.S. Ordering help & policies.