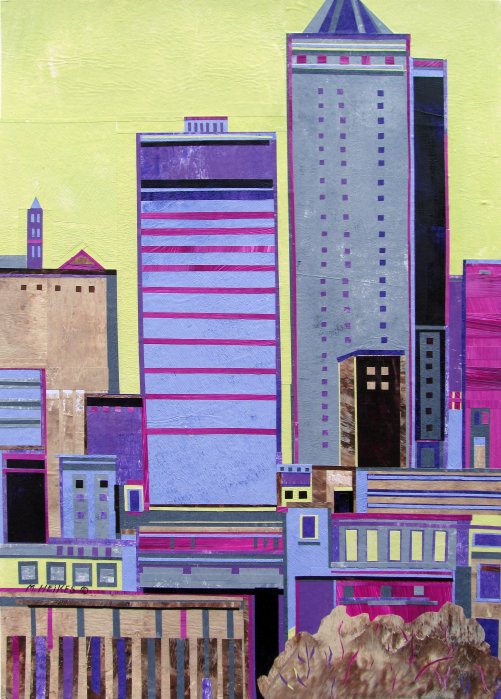 Downtown Des Moines Series #45
Acrylic collage
My inspiration for this acrylic collage are the shapes of various buildings in downtown Des Moines. I love the different shapes, with all their details that make up an interesting design. The challenge is a complex design of familiar buildings in the downtown environment using bright colors.
I begin with some of the photographs taken during visits to the big city and then drawing some loose sketches to describe the landscape of the city. I do not draw the design on the support but use both my photo and sketch as reference next to me and refer to it during the collaging process. This allows for editing and making changes to create a stronger and better design.
Drawing gets my creative juices flowing and, while sketching, I am thinking of possible color combinations to use for the collage. My hand-painted papers are done with acrylic pigments and I spend a few days replenishing colors to make sure I have enough on hand to complete a new design. For this collage, I have used a limited palette to create harmony in my design. I began with the gray buildings and added shapes adjoining these and added the burnt umber, lemon yellow and magenta. These colors are soothing and complement each other. I was pleased with the softness of the collage.
While working and editing shapes working the whole piece as one unit, I added window shapes, bricks, roof lines and the triangular tower pieces. I kept adding small shapes until I felt it was completed. Sometimes areas appeared to be flat and I edited to add additional dimension to the buildings. This process took me a bit longer than I realized, but pushed it further to create a pleasing collage.
Want to Buy It?
Format
Size
Price
Original

16″ × 28″

Silver metal frame (22" x 29") with white mat

Print

8″ × 10″

Actual image size is 5.71″×10″.

Print

11″ × 14″

Actual image size is 8″×14″.

Print

16″ × 20″

Actual image size is 11.43″×20″.
*Frame and mats not included unless noted. Shipping costs are for the continental U.S. Ordering help & policies.