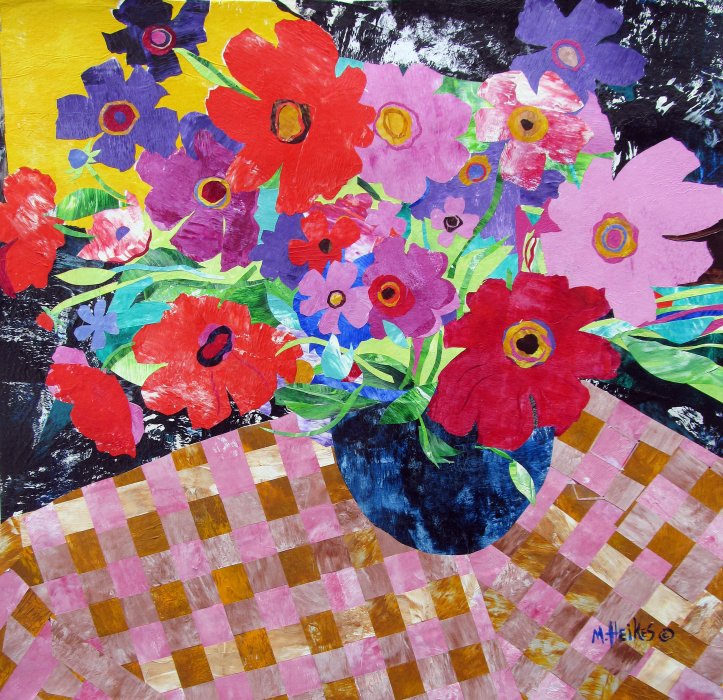 Crimson Cosmos on Pink Woven Tablecloth
Acrylic collage
My creative approach for collages is like taking a journey without a predetermined destination. I begin by setting up a still life and taking lots of photographs for reference. The flowers were picked from our garden and I usually plant favorites that find their way into my paintings. I did complete a sketch which is just a bare-bones map to start the journey. I do not "copy" my photograph; it is just a reference point.
The finished collage is an expression of my thoughts of these beautiful flowers. I work creatively and intuition plays a major part of the finished painting. My main concern is placement of shapes and design and how the patterns interact with each other. Color, lots of it, and brights that pop are usually the first shapes I start with. Once I glue shapes down, other areas need attention that connect them. When I started with the blossoms, the greenery and background was a blank. While editing and adjusting colors and petal shapes, I had an idea for the table area. I had woven some strips of papers a few years ago, and the colors seemed to be compatible with the bright blossoms. I cut a small area of the woven paper and laid it next to the vase. It needed an angle to lead the eye into the picture, so another shape was cut and added perpendicular to the first one. The colors of the cloth are soft and not clamoring for attention — the bouquet is the main feature.
Intuitively I chose a bright yellow to suggest sunlight streaming in a window. That required adding more flower shapes as the yellow shape seemed too intense. After that, I used some paper scraps to try out colors for the background and chose a black/blue/teal textured piece, something I had not thought of until that point. It added dark abstract values to the piece. The last section to complete, strangely enough, was the stems and leaves. It also is an interesting abstract shape which completes the patterns of the flowers, cloth, and background. I was pleased with the final composition.
Want to Buy It?
Format
Size
Price
Original

21 ½″ × 22″

White wood / Silver edge frame (27" x 27") with white mat

Print

8″ × 10″

Actual image size is 8″×8.19″.

Print

11″ × 14″

Actual image size is 11″×11.26″.

Print

16″ × 20″

Actual image size is 16″×16.37″.
*Frame and mats not included unless noted. Shipping costs are for the continental U.S. Ordering help & policies.