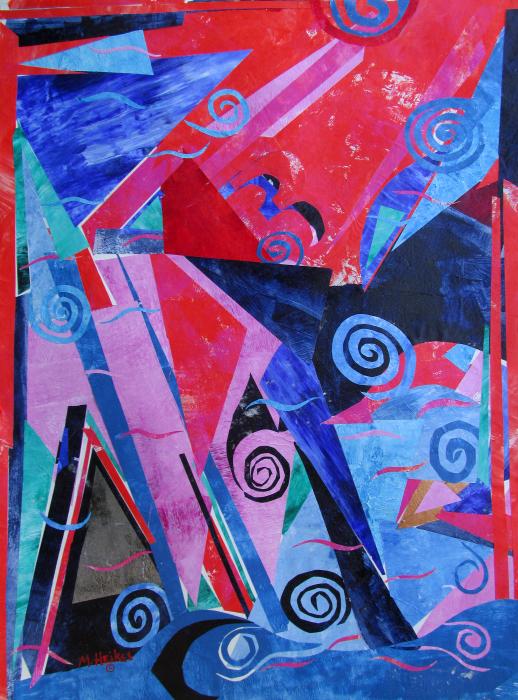 Lightning on the Waves/Voyages
Acrylic collage
This composition is another adventure, a voyage into the unknown. It seems easy enough to choose favorite colors and then the decisions begin with different shapes and arrangements. Because I hand-paint my papers with Golden and Liquitex pigments, the juicy, thick paint results in a highly textured surface that adds interest to the patterns and shapes of my designs. I am aware of these textures while painting and watch how the pigments blend and interact with each other on the surface. The tactile surface of my collage designs is important and part of the finished design.
This abstract composition began using Pyrrole Red and a mixture of soft pink. The dark values combine black, teal, ultramarine blue and cobalt. No preliminary sketching was done beforehand; I jumped right in with the hand-painted papers and started cutting random shapes with an X-Acto knife and scissors. When I have cut approximately ten to twelve shapes of different sizes and variety of colors, I begin arranging the shapes and moving them around to form a pleasing design. This is an intuitive method because I like a surprise and allow my subconscious to play a part in creating a strong composition and not be tied down to a pre-planned sketch. (I do work from a sketch when doing realistic pieces.) During the process I will turn the composition around and view it from all sides, vertical or horizontal, and critique the piece. This design seemed to be a vertical with the spiral shapes on the bottom revolving around the picture plane.
The surface is pretty much one layer, but some areas have two or three layers underneath. I use a glue stick to temporarily adhere the shapes in place, although the shapes can be moved throughout the process. Because I use a thinly-painted collage paper for painting, it is easy to adjust or change colors at any time during the process. It is not a thickly painted surface. When viewed from a distance, my collages have the appearance of a painting, not uneven layers of papers. I have gone back after many years to change shapes that seem to need it in older paintings.
Want to Buy It?
Format
Size
Price
Original

22″ × 30″

Flat pewter metal frame (28" x 36") with white mat

Print

8″ × 10″

Actual image size is 7.33″×10″.

Print

11″ × 14″

Actual image size is 10.27″×14″.

Print

16″ × 20″

Actual image size is 14.67″×20″.
*Frame and mats not included unless noted. Shipping costs are for the continental U.S. Ordering help & policies.