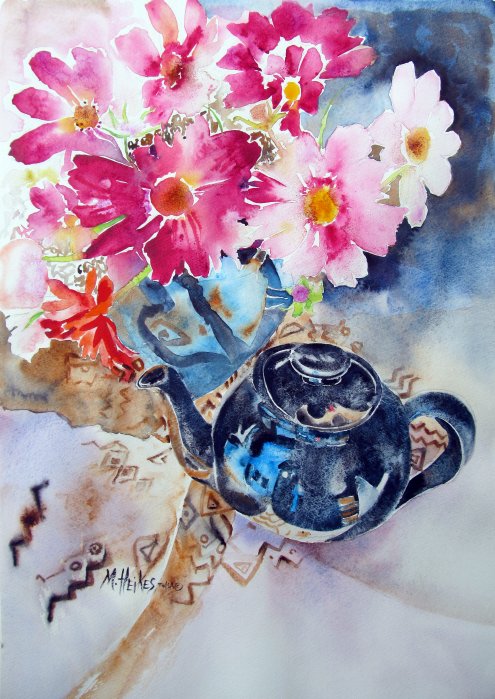 Ebony Teapot & Pink Cosmos Bouquet
Watercolor & gouache
This watercolor painting was inspired by my late-blooming cosmos in our garden last fall. I picked a full bouquet and set up the still life in sunlight with an Indian-patterned cloth and the teapot. Other items were also included in the set up. When I set up the objects, things are moved around for different viewpoints. I am concerned with using a variety of objects and patterns. It takes at least half a day composing and photographing the still life. Multiple reference photos are taken for future use.
Occasionally I draw it from life which can take a full day, doing numerous sketches from different angles to use later for either a watercolor painting or acrylic collage. I draw the composition lightly on Fabriano cold pressed paper, which is stretched before putting down pigments. The ebony teapot has been in my collection for many years and a favorite. I recently purchased some new Dan Smith paints and wanted to use these for the teapot. They granulate while drying and I like the texture in my painting. The colors I used were Sodalite Genuine, Blue Apatite Genuine, Manganese Blue, Mayan Blue Genuine and Indigo.
The reflections on the pot were interesting to me — it is a glossy pot with a dark value set against the lovely pinks, reds and magenta of the flowers. I intended to paint this loosely, working wet-in-wet on damp paper to soften edges. Sometimes I will paint straight from the tube to achieve the intense colors on the paper. Fabriano paper is a softer surface than others and I like the effect of the pigments and I allow the pigments to mix together on the paper and not mix them on the palette. Normally I paint realistically with lots of details, but with this painting wanted a softer result. The fabric was very detailed, but I just suggested some of it and focused on the flowers and pot.
Want to Buy It?
Format
Size
Price
Original

14″ × 18″

Brushed gold metal frame (20" x 24.25") with white mat

Print

8″ × 10″

Actual image size is 7.78″×10″.

Print

11″ × 14″

Actual image size is 10.89″×14″.

Print

16″ × 20″

Actual image size is 15.56″×20″.
*Frame and mats not included unless noted. Shipping costs are for the continental U.S. Ordering help & policies.