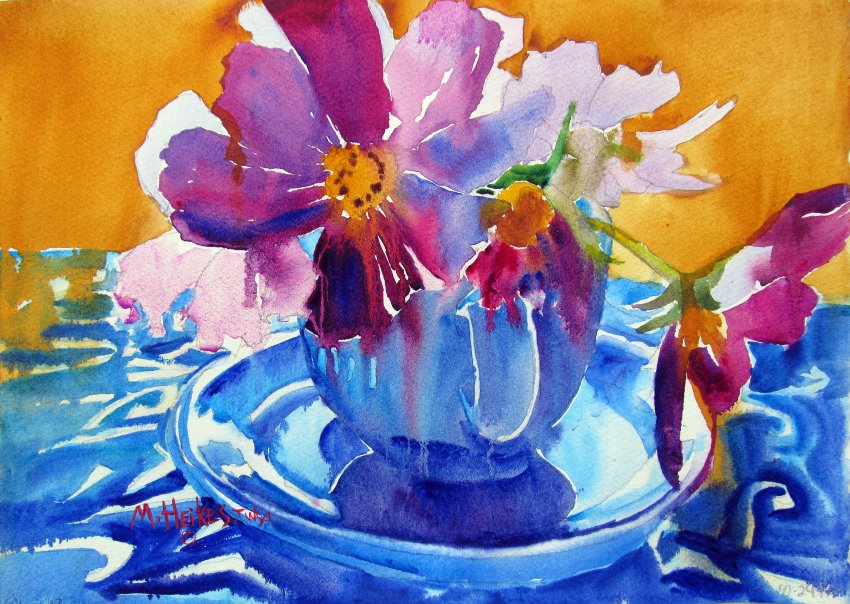 Coffee Cup Cosmos on Blue Patterned Cloth
Watercolor
This watercolor was painted in the "alla prima" technique, from the Italian meaning "at the first." It describes a painting which is completed in a single session. The idea is to capture the essence of the subject in a bold, intuitive way, using vigorous, expressive brush strokes and minimal color mixing on the palette. This direct painting method requires confidence, but is very liberating. The artist works rapidly, using the brush freely to express an emotional response to the subject.
I began by cutting some cosmos from my garden and put them in one of my Fiesta coffee cups because I liked the combination of colors and patterns of the flowers against the graphic, blue and white patterned cloth. The still life was set up in direct sunlight, making all the colors bright and saturated. I painted this on my easel, allowing the colors to run and blend on the paper.
I usually paint a series of floral paintings during the year and use the flowers from my garden. I enjoy the challenge of combining different elements in my still lifes, and have a large collection of objects to include in my compositions. Many of the objects occur in different set ups. These include pottery, antique bottles, patterned fabrics, fruit, flowers, figurines, furniture, room interiors and sometimes cats. Color and textures play a big part in my still lifes.
Usually I work from a preliminary sketch. I feel that drawing is the structure for my paintings and it ignites the flow of ideas and necessary for beginning a painting. Once I complete a sketch, I am able to focus and begin painting with colors and shapes, much like putting a puzzle together. I allow for changes along the way, especially if I notice a shape or color change could improve the final painting.
Want to Buy It?
Format
Size
Price
Original

11″ × 8″

No frame (14" x 11") with white mat

Print

8″ × 10″

Actual image size is 7.27″×10″.

Print

11″ × 14″

Actual image size is 10.18″×14″.

Print

16″ × 20″

Actual image size is 14.55″×20″.
*Frame and mats not included unless noted. Shipping costs are for the continental U.S. Ordering help & policies.