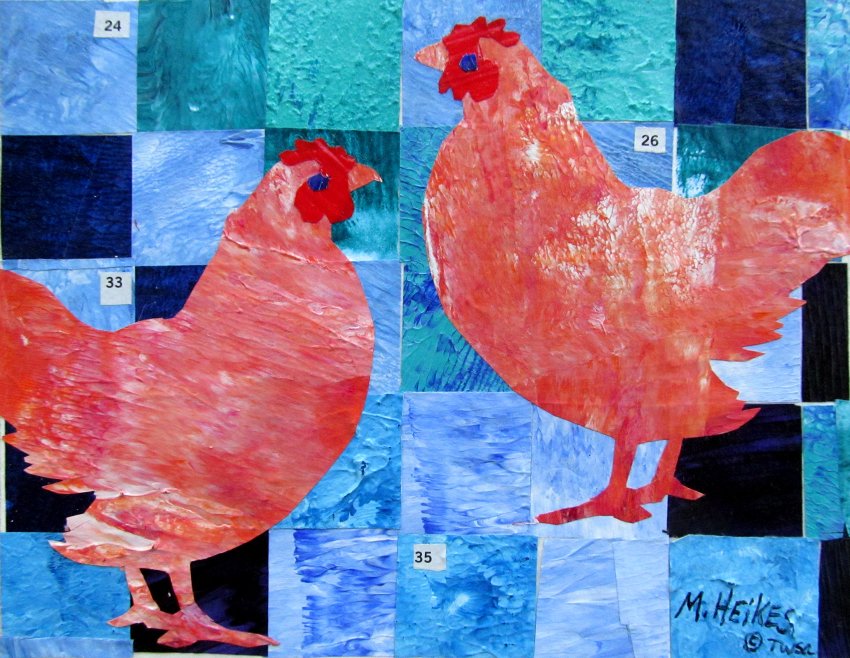 Crossword Clues with Orange Hens
Acrylic collage
Chickens galore! This collage is one I completed as a Daily Painting exercise. Most of my artwork are larger sizes, so I thought it would be fun to do a small and simple piece. It is also great to be able to use some of my collage paper scraps. I have about twelve bags sorted by color, and also some watercolor paper which I used for the support. My acrylic hand-painted papers are done on a light weight paper and are easy to cut and manipulate on any surface. I have a large stash of boards and papers just for doing these petite works of art.
Chickens have been a popular subject matter and I have many sketchbooks with enough material for the next hundred years. I had an idea to use crossword puzzle square shapes behind the chickens. They are an excellent background for these birds, and the complementary colors achieve the color vibration that makes this piece sing!
Because this is a very small piece, I kept the shapes simple and little details as they are difficult to cut. Limiting the colors on the palette ensures harmony and unity in the artwork. My use of thick, heavy-body acrylics emphasizes texture, which is also another reason why I like painting with acrylics. No wimpy pigments, just bold and brilliant colors. I feel this is a successful design and I'm happy to have completed this in one sitting.
Want to Buy It?
Format
Size
Price
Original

7″ × 5 ¼″

No frame (11" x 9.5") with white mat

Print

8″ × 10″

Actual image size is 7.5″×10″.

Print

11″ × 14″

Actual image size is 10.5″×14″.

Print

16″ × 20″

Actual image size is 15″×20″.
*Frame and mats not included unless noted. Shipping costs are for the continental U.S. Ordering help & policies.