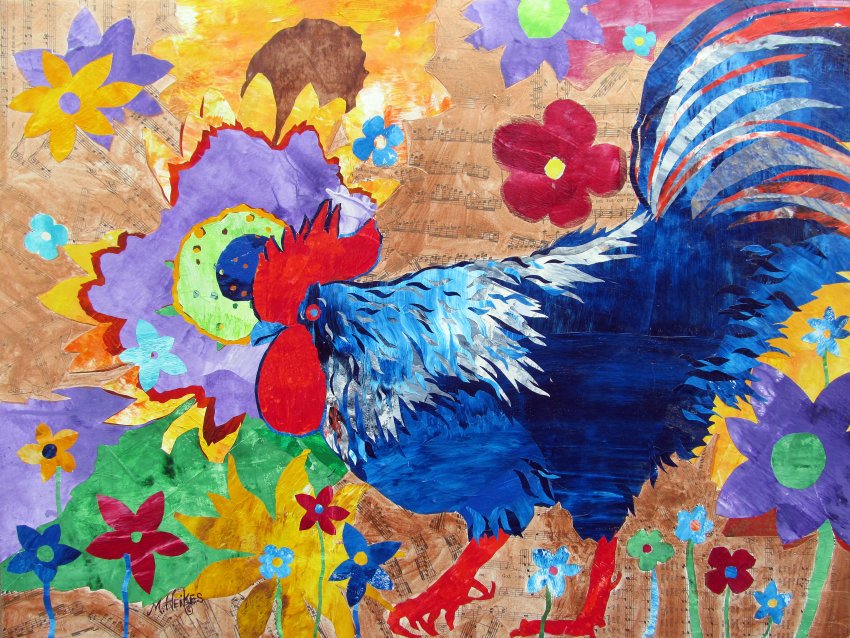 Rooster Romp (Barnyard Dance)
Acrylic collage
This rooster acrylic collage is one of the many I have done with an Iowa animal theme. I usually begin doing a loose contour drawing and do not concern myself with a perfect, detailed drawing of the subject matter. I want the linear design to be lyrical and expressive. The background element was unknown at the beginning — I focused on the  shape of the rooster. He seemed to have an attitude of being a barnyard king.
Then I started choosing the colors for the rooster. One of the reasons for doing acrylic collage are the bright, saturated pigments and textures. I paint my papers ahead of time and have a large stack ready. Using heavy body acrylics emphasizes the texture, along with combining more than three colors on my paper and swirling it around to achieve variegated color patterns.
While assembling the rooster shapes, I began thinking of titles for it, and finalized the background  shapes. I do a lot of gardening and grow my own flowers to paint, so I thought that adding some flowers to the background would enhance the composition. It seemed the rooster was dancing in the garden, so I decided that adding some sheet music would be fun in the design. Critiquing it, I decided the music paper was too stark and then added a soft, metallic acrylic glaze over it. That seemed to do the trick.
When I first began doing the acrylic collages in 1985, barns, roosters, pigs, cows and sheep were the first ones I completed. These were done in a square format, capitalizing on the structure of the barns first, then the animals. For a while I was doing quite a lot of pigs, due to the "Pigcasso" art show at the World Pork Congress in Des Moines. I find that over the years, the more I draw and design collages, the more ideas I get.
Want to Buy It?
Format
Size
Price
Original

24″ × 18″

Print

8″ × 10″

Actual image size is 7.5″×10″.

Print

11″ × 14″

Actual image size is 10.5″×14″.

Print

16″ × 20″

Actual image size is 15″×20″.

Notecard Set

7″ × 5″

Package contains 6 designs of your choice on folded cards. Actual image sizes vary. Blank inside. Envelopes included.
*Frame and mats not included unless noted. Shipping costs are for the continental U.S. Ordering help & policies.