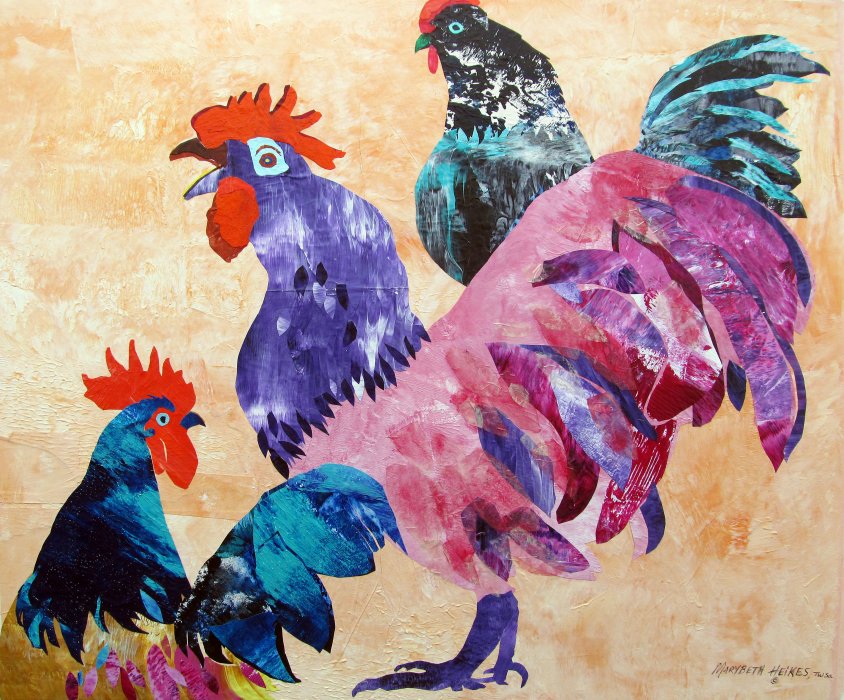 Fowl Attitudes
Acrylic collage
Lately I seem to be creating a lot of different birds! This one started with some loose, contour drawings of chickens, which I think are funny birds. I love the variegated feathers and textures on the birds. After I completed some drawings, I used my tracing paper to combine some of them into a pleasing design. I didn't use all my sketches — some will be for a rainy day!
Instead of beginning with the shapes of the chickens, I added the light peachy color for the background, knowing that it would be difficult to add the background after applying the jagged edges of the feathers. I worked on all three chickens, adding and subtracting shapes. For the main bird, I added some rice paper on top and washes of magenta watercolor in drybrush to integrate it on the surface.
Want to Buy It?
Format
Size
Price
Original

19″ × 15″

Round gold metal frame (24" x 20") with white mat

Print

8″ × 10″

Actual image size is 7.89″×10″.

Print

11″ × 14″

Actual image size is 11″×13.93″.

Print

16″ × 20″

Actual image size is 15.79″×20″.

Notecard Set

7″ × 5″

Package contains 6 designs of your choice on folded cards. Actual image sizes vary. Blank inside. Envelopes included.
*Frame and mats not included unless noted. Shipping costs are for the continental U.S. Ordering help & policies.