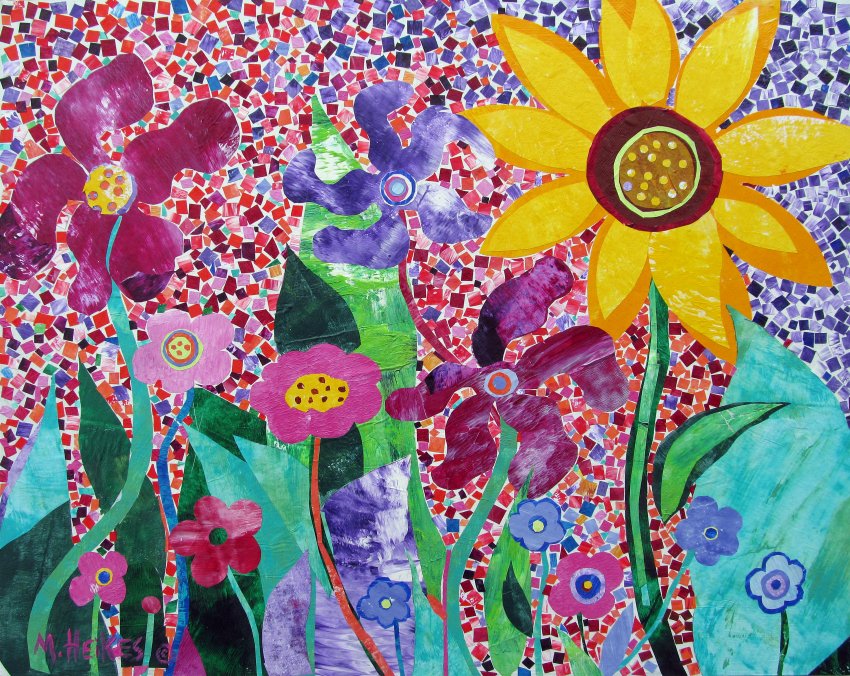 Mosaic Garden Series – Purple Pinwheels
Acrylic collage
Drawing and painting my garden flowers has been a delight for me. Every year I add new plants to the old favorites. I draw from life in the garden and also cut bouquets to set up still lifes. I work from my sketches and photographs and have a large supply of ideas for future paintings.
For this particular design I did not do a preliminary drawing, but began with choosing the size of hardboard and cutting shapes of flowers. From my hand-painted stock of acrylic papers, I choose colors for the design and think about which hues complement each other. This is an intuitive process created from many years' experience. My compositions benefit from the unplanned design and it is beneficial in playing with the shapes and colors, and allowing for changes along the way. Sometimes unusual color combinations crop up and I edit and change as I start gluing the pieces onto the board.
I began with the large, yellow sunflower shape on the right and worked my way down to the foreground and also to the right. Each color and shape is coordinated with its neighbor, so it is similar to putting a jigsaw puzzle together. At the start of this collage, I had no idea what the background would be. But, as I worked, more ideas for it came to mind. I decided on a dark value purple behind the sunflower.
One great thing about collage is the brilliant, textured hues I achieve with the acrylic paints. Many of my papers are painted with a variety of colors that add texture and vivid colors. I usually paint with Golden Heavy Body acrylics because of their thick textures. I was pleased with the outcome of this painting, despite the length of time it took to complete. It is successful in color, value and repetition of shapes.
Want to Buy It?
Format
Size
Price
Original

20″ × 16″

Gold metal frame (28" x 22") with white mat

Print

8″ × 10″

Print

11″ × 14″

Actual image size is 11″×13.75″.

Print

16″ × 20″
*Frame and mats not included unless noted. Shipping costs are for the continental U.S. Ordering help & policies.