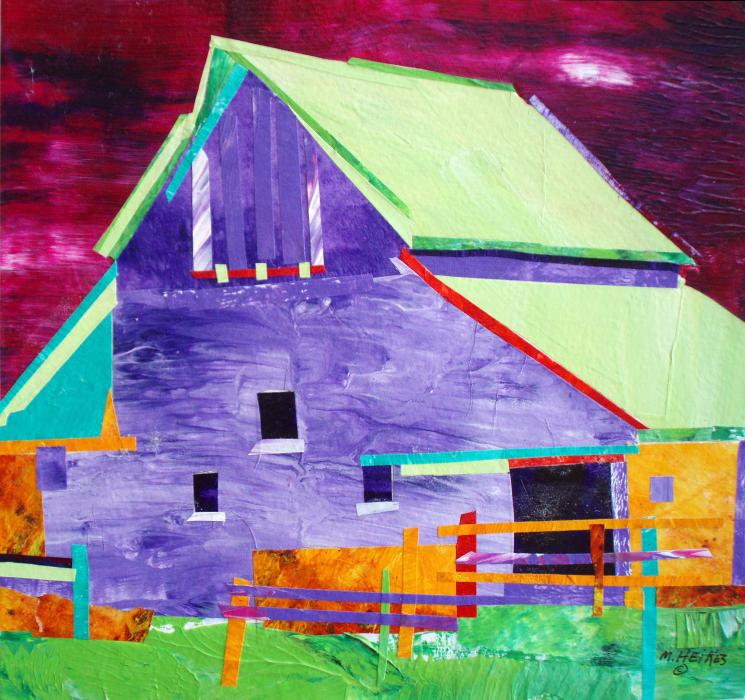 Farmstead
Acrylic collage
This collage is a continuation of my Iowa barn series that I began in 1994. I used a reference photo given to my by a friend. This barn is in northwest Iowa. All of my barn collages have been done from actual barns found in southeast Iowa, or friends who send me pictures from their areas.
I start the design with a simple, contour drawing. My palette consists of hand-painted acrylic papers.  Occasionally I will spend a whole day just painting large sheets of paper and store them in a box for future use.  After transferring the design to a piece of 300 pound watercolor paper, I begin to select the colors that I will cut and fit together like a puzzle. Sometimes the color combinations can change if I'm unhappy with the color. With collage, it is possible to paste over a color or change a shape. After the collage is completed, I brush on a protective UV varnish.
I also work on commissions in collage, and have done various barns, tropical fish, and floral bouquets. I've found that most subject matter can be transformed into a whimsical and colorful collage.
Want to Buy It?
Format
Size
Price
Original

8″ × 8″

Black metal frame (13" x 14") with double white mats

Print

8″ × 10″

Actual image size is 8″×8″.

Print

11″ × 14″

Actual image size is 11″×11″.

Print

16″ × 20″

Actual image size is 16″×16″.
*Frame and mats not included unless noted. Shipping costs are for the continental U.S. Ordering help & policies.