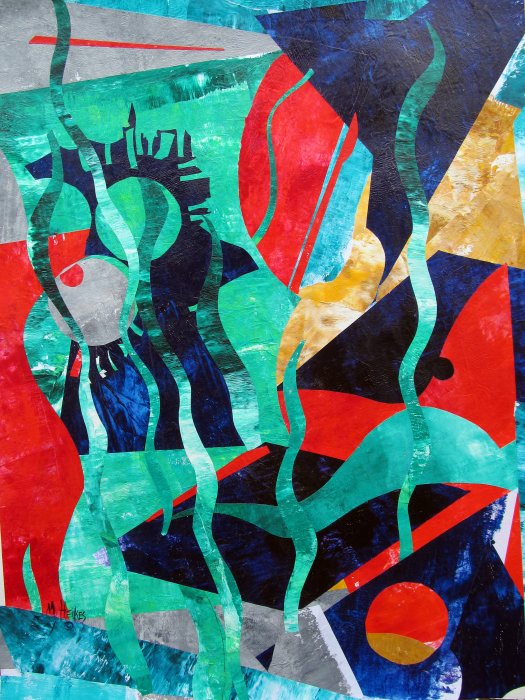 Deep River Verde
Acrylic collage
This is a non-objective vertical design, which began without the help of a drawing. I find it challenging to work this way allowing my creative energies to flow without a definite end product in mind.
I first chose some colors from my cache of hand-painted collage papers, limiting the hues. This is difficult for me to do, as I love most pigments, and it's difficult to choose just a few. Pinning down just a few creates harmony and a stronger design when colors are limited. After choosing reds, emerald and indigo, black, and deep blue, I begin randomly cutting shapes with my X-Acto knife. My aim is a variety of shapes and different sizes. I read an art article once on design and how to create a pleasing composition with just twelve shapes. This method unifies the composition and strengthens it, without having a lot of small shapes that do not contribute anything to the elements of design.
Next I begin arranging these shapes on my support of 300# watercolor paper. If the placement seems right to me, I will tack the pieces together lightly with a glue stick — a temporary placement. As I work, more shapes are added, edited and trimmed or cut through the top layer, creating another shape. It is an intuitive method and a challenging way to work. When I feel that the design is progressing favorably, I will place a temporary mat on it, which helps critique the piece and determine if the design is acceptable and what it needs to be strengthened as far as the composition.
Another method I use to evaluate the progress is viewing the design through a piece of red cellophane, in which the value pattern is evident — everything is just black and white. While I am working on arranging the shapes, I'm thinking of a title for the piece. This is difficult with an abstract motif, and the imagination comes into play. Sometimes shapes suggest something to my subconscious mind, other times phrases from readings come into play. The wavy green bands suggested the element of water to me. I felt this collage was very successful. The shapes, colors and textures all benefit the design.
Want to Buy It?
Format
Size
Price
Original

22″ × 30″

Flat chrome metal frame (28" x 36") with white mat

Print

8″ × 10″

Actual image size is 7.33″×10″.

Print

11″ × 14″

Actual image size is 10.27″×14″.

Print

16″ × 20″

Actual image size is 14.67″×20″.
*Frame and mats not included unless noted. Shipping costs are for the continental U.S. Ordering help & policies.