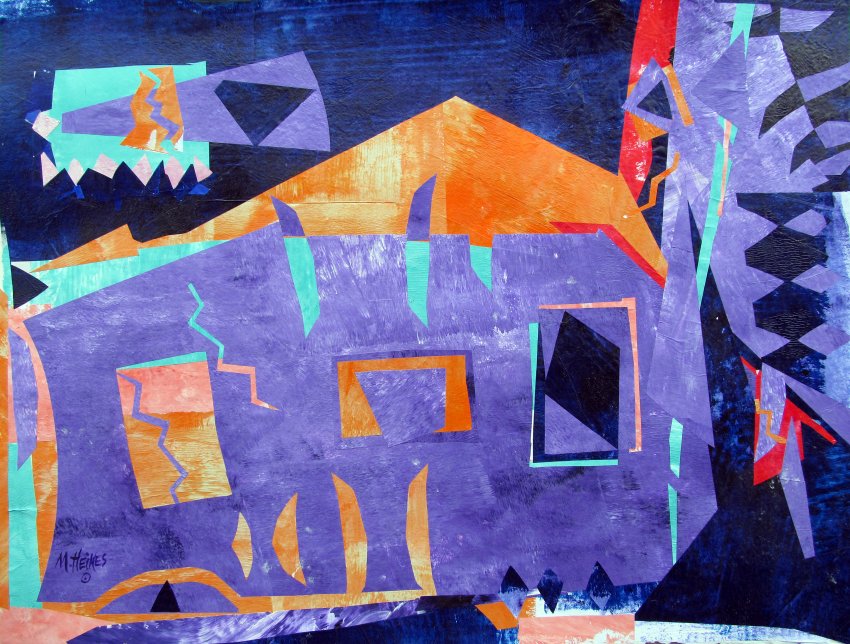 An Egyptian Passage in Purple
Acrylic collage
This is a full sheet collage that is part of my series of non-objective subject matter. It began with choosing some favorite colors: purple, orange, indigo and teal. I began making the shapes using random cuts with the X-Acto knife and folding various parts of my hand-painted papers. This is quite challenging to begin this way, not having any specific design plan and just forging ahead with arranging the shapes in a pleasing manner.
The colors were limited to create harmony and unity in the composition, which are some of the elements of design. This piece seemed to flow along easily and I kept rearranging the shapes before doing a critique and evaluating the direction it was progressing. I kept in mind it was important to limit how many shapes and the sizes. I also had some scraps from my previous collage that I was able to work into this design. My favorite shape was the large purple piece.
As I work, other ideas pop into my mind and I edit and manipulate the shapes into a cohesive unit. This can take up to a week to accomplish, as I have more than one design in progress at any given time. I let the design sit for a while with a mat over it to decide how much more fiddling I need to do, if any. The waiting period and looking at it periodically helps the creative process. Other ideas on editing happens and other shapes are added, cut or folded. During this process the shapes are tacked in place using a glue stick, which is temporary until I declare it finished. Then I use a thick, heavy gel acrylic gloss medium to glue it all together. Paper towels are used to press any bubbles and excess medium from the finished collage. After it dries, I use Winsor & Newton UV Varnish to protect it.
Want to Buy It?
Format
Size
Price
Original

30″ × 22″

Flat silver metal frame (35" x 27") with white and purple mats

Print

8″ × 10″

Actual image size is 7.33″×10″.

Print

11″ × 14″

Actual image size is 10.27″×14″.

Print

16″ × 20″

Actual image size is 14.67″×20″.
*Frame and mats not included unless noted. Shipping costs are for the continental U.S. Ordering help & policies.