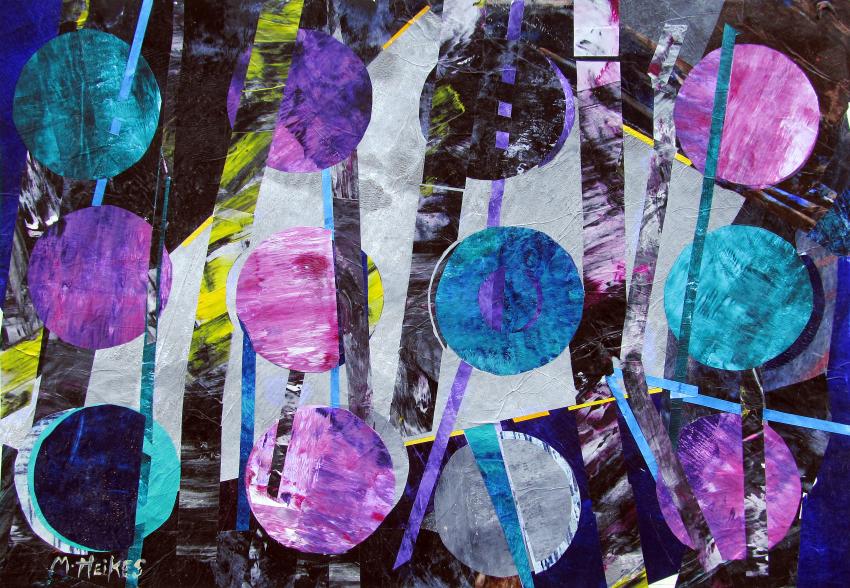 Midnite Kingdom of Lunar Eclipses
Acrylic collage
The impetus for this design was an upcoming juried competition and the fact I wanted to do an abstract composition. Having a definite deadline always propels me into action.
Starting with some geometric shapes, I began arranging the shapes on the support and thought about a definite value pattern. My main idea was a circular movement with a limited palette of indigo/black/teal/purple, and I found some favorite variegated color shapes in my scrap bags with black, yellow and crimson. I thought those would be perfect for what I had in mind. A gray triangular shape was important contrast with the circles and an angular piece to tie down the circles and add some dynamic linear movement. Somewhere along the process I added some bright yellow dotted lines to lead the viewer's eye around the picture plane. As I laid the shapes on a piece of archival foamboard, the composition began to form.
It is important to keep the elements and principles of design in your mind as you work. Shapes kept evolving as I continued to arrange the paper shapes. The vertical strips were added because I had been previously working on weaving some collage scraps and liked the vertical lines, which acted like a grid behind, over and through the circles. I am fond of weaving papers, and have used this technique in some of my other collages. It adds interesting square shapes and color vibrations.
While critiquing the design in progress, I changed some of the colors and cut around and between other shapes. I find that it's a good idea to keep pushing the composition and working with the relationships between areas and colors. This takes a while for me. When a specific area bothers me and it seems my eye is drawn to it, I alter and edit the shape or color. Collage is a forgiving medium because you always can go back and edit it. This piece was in progress for about a week before gluing it all down with the acrylic gel medium. A final UV varnish was added for protection.
Want to Buy It?
Format
Size
Price
Original

20 ½″ × 14 ½″

Black wood frame (26" x 22") with white mat

Print

8″ × 10″

Actual image size is 7.07″×10″.

Print

11″ × 14″

Actual image size is 9.9″×14″.

Print

16″ × 20″

Actual image size is 14.15″×20″.
*Frame and mats not included unless noted. Shipping costs are for the continental U.S. Ordering help & policies.