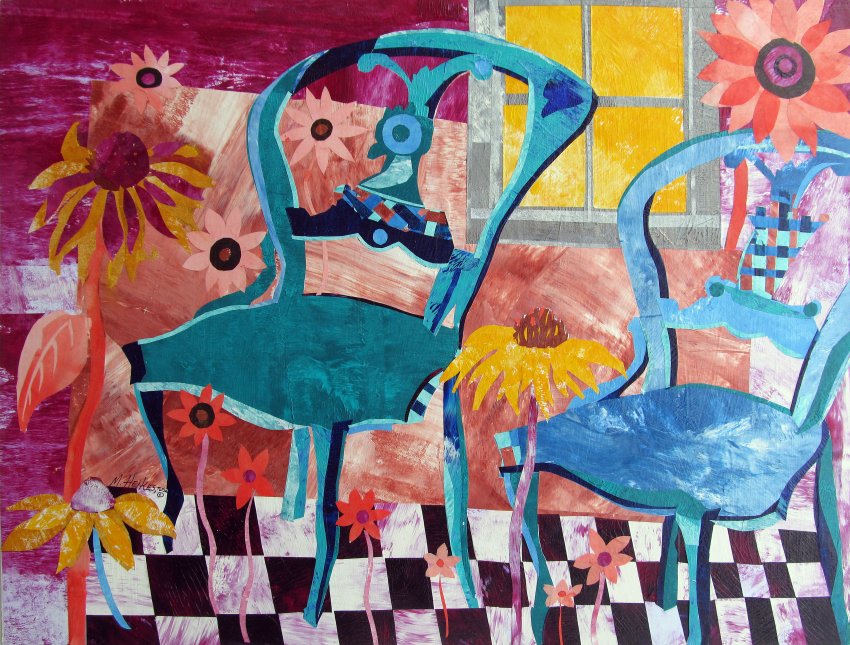 Elegant Garden
Acrylic collage
This was inspired by Annie's chairs at the Artisan Gallery 218. In early spring I did numerous loose contour sketches of these antique chairs and they were the beginning of my collage design.
The other elements evolved from my imagination: the sunny window, the magenta color I love, the zinnias and sunflowers from my garden. The foreground was blank for a while until the checkered Art Deco floor popped into my mind.
The limited palette of colors, magenta and teal adds unity and harmony in the design, and are also complementary colors. The square shapes contribute dominance and repetition to the composition. The element of color and texture are elements of design that strengthen it. The finished design is successful and I was pleased with the results, especially because I let it evolve — nothing was planned from the beginning — it was a wonderful adventure with a surprise ending!
Want to Buy It?
Format
Size
Price
Original

24″ × 18″

Print

8″ × 10″

Actual image size is 7.5″×10″.

Print

11″ × 14″

Actual image size is 10.5″×14″.

Print

16″ × 20″

Actual image size is 15″×20″.
*Frame and mats not included unless noted. Shipping costs are for the continental U.S. Ordering help & policies.