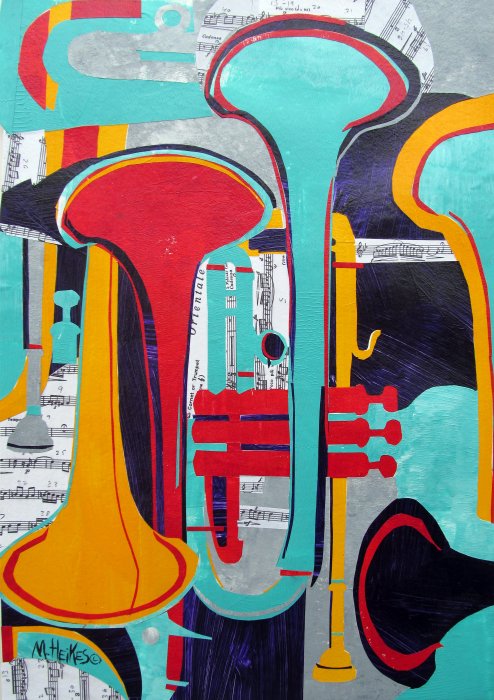 Orientale Cadenza for Trumpet
Acrylic collage
Painting a series of musical instruments has been on my mind lately. This began with a very loose contour drawing in ink and turned out to be more complicated than I thought. I completed the drawing from life and included the many sections of details as I worked.
Sometimes I like to begin doing a blind contour drawing, in which you keep your eyes on the object you're drawing and not on the paper. This leads to many lyrical and bold shapes. I used the modified version of the contour drawing, as I wanted the trumpet to be factual for this design. The drawing took me longer to complete too, because of the details. I felt these shapes described the instrument well.
This finished collage is actually the second one I did because the first beginnings were not to my liking. This sometimes happens when an artist does not limit the colors or  for some reason gets off to a bad start. In limiting the colors to a warm yellow, cadmium red, teal and grays, this strengthens the design and unifies the shapes. It also contributes to the harmony of the composition — definitely one of my goals!
I began cutting the main shapes and simplifying them, laying the shapes loosely on my support. One of the reasons I love this medium, eliminating details and concentrating on the big shapes. The bell-like shapes adds repetition to the design and viewer can discern the simple shapes easily from a distance. There is also the repetition of the graceful, curving shapes of the trumpet. I decided to add some sheet music for accents, without interrupting the vertical design. The teal and indigo values complement the reds. I feel this is a successful design.
I did not do a preliminary thumbnail, just the sketch in the beginning. My usual plan is to work freely without confining myself to a specific drawing and allowing wonderful things to happen along the way. The end result is a pleasant surprise.
Want to Buy It?
Format
Size
Price
Original

14 ½″ × 21″

Flat crimson metal frame (21.5" x 29") with white mat

Print

8″ × 10″

Actual image size is 6.9″×10″.

Print

11″ × 14″

Actual image size is 9.67″×14″.

Print

16″ × 20″

Actual image size is 13.81″×20″.
*Frame and mats not included unless noted. Shipping costs are for the continental U.S. Ordering help & policies.