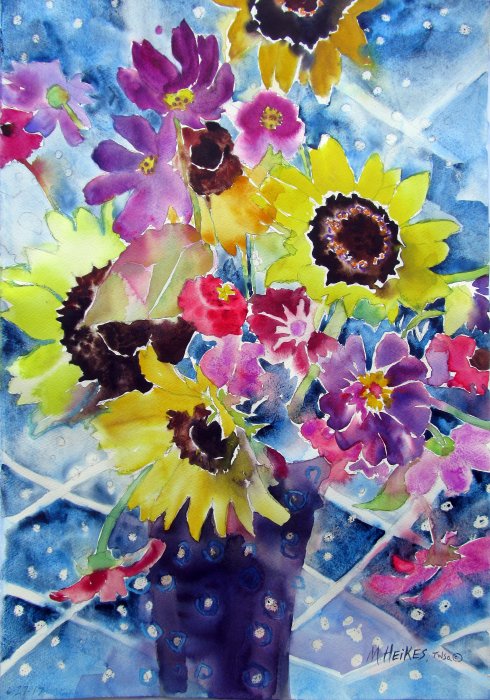 Raindrops Bouquet with Sunflowers & Zinnias
Watercolor
I find it delightful to paint fresh garden bouquets. Still lifes have been my main subject matter over the years because the possibilities are endless. I have a large collection of vases, bottles, fabrics in my studio that have found their way into my compositions. Every year I plan what to plant in my gardens that would make great shapes and colors to paint.
I used a photo taken many years ago that I have painted already, but the bold hues still capture my attention and beg to be painted. The challenge is in the backgrounds because my focus is the flowers themselves. Usually I contemplate the negative spaces around the flower shapes while painting.
This particular bouquet was very full with the lemon and cadmium yellow sunflowers — they grabbed center stage. I love them because they are bold and beautiful in the arrangements. I stuffed them into the vase with the fuchsia zinnias and lavender cosmos. I wanted to capture the brilliant hues and lively character of the flowers. The deep umber values of the sunflowers contrasted nicely with the warm yellow pigments.
The photograph was taken outside in direct sunlight, and during the painting process I decided to cool the background down, adding raindrops in wax and the criss-cross patterns in the foreground to add interest and more of a variety of shapes. Some of the blue pigments are Lunar Blue with Cerulean in medium tones. The vase was also simplified — it has a busy abstract floral pattern on it and I decided that would interfere with the design and make it too busy.
Although I have painted from this particular photograph, each painting is distinctively unique. I had planned to add other elements in  this composition, but everything worked well without adding more without decreasing the size of the flowers. I feel this is a successful design and happy with the end result. I did not do a thumbnail at the beginning — I just started painting and let it flow.
Want to Buy It?
Format
Size
Price
Original

15″ × 22″

Silver metal frame (20" x 27") with white mat

Print

8″ × 10″

Actual image size is 6.82″×10″.

Print

11″ × 14″

Actual image size is 9.55″×14″.

Print

16″ × 20″

Actual image size is 13.64″×20″.
*Frame and mats not included unless noted. Shipping costs are for the continental U.S. Ordering help & policies.