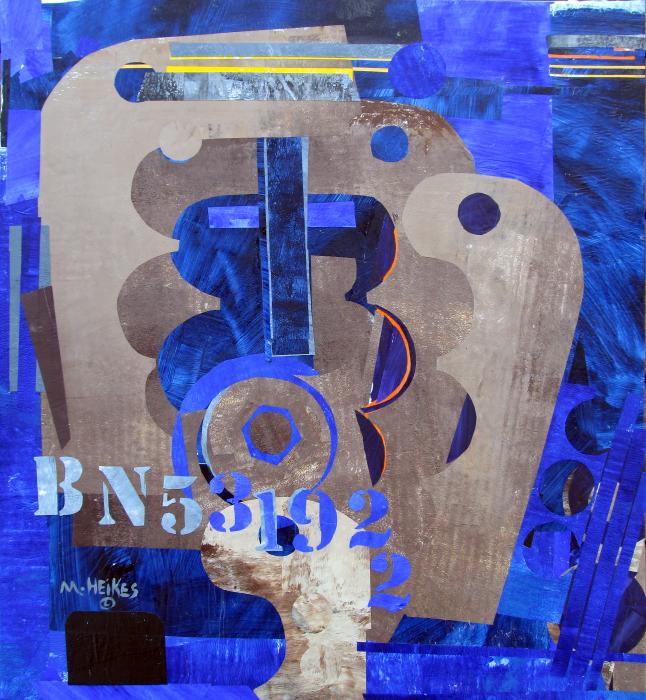 Engine Abstraction #17
Acrylic collage
This abstract train engine varies a bit from the pieces I have completed so far. This collage is actually the first design. I did not use a sketch, but rather used a close-up section and began by cutting out shapes and arranging them on the gessoed hardboard. It is a section of the brake and wheel, and I just improvised until the design looked good to me. It is a little larger than the other abstractions I have completed — almost a square composition. I also wanted to continue with the blue colors in previous collages and challenged myself to use browns, a pigment not usually found on my palette. The numerals were interesting to me as an accent — they add some interest in the design, as do the yellow stripes that were carried over from previous abstractions. The ultramarine blue is a favorite color. I was pleased with the results.
Want to Buy It?
Format
Size
Price
Original

22″ × 24″

Black wood frame (26" x 28") with white and gray mats

Print

8″ × 10″

Actual image size is 8″×8.73″.

Print

11″ × 14″

Actual image size is 11″×12″.

Print

16″ × 20″

Actual image size is 16″×17.45″.
*Frame and mats not included unless noted. Shipping costs are for the continental U.S. Ordering help & policies.