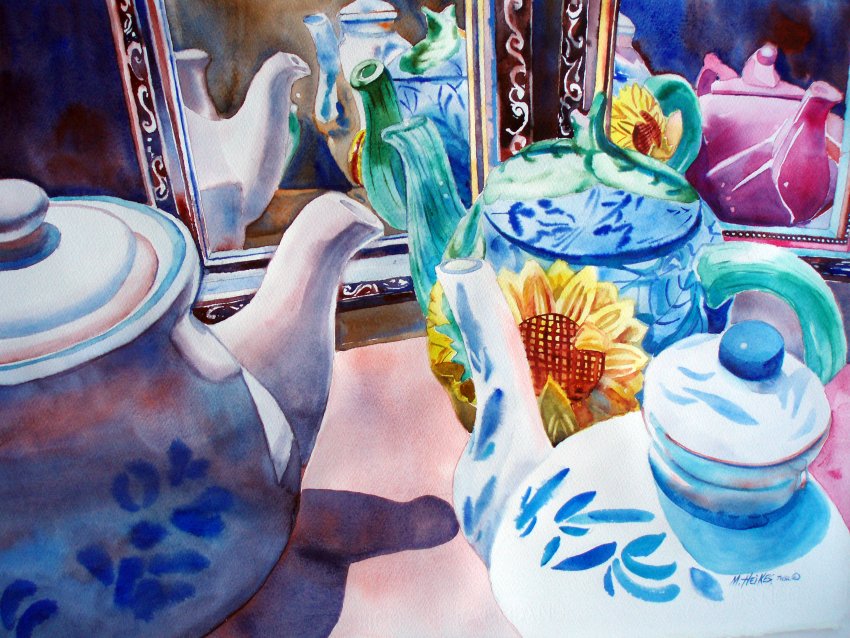 Spouting Off
Watercolor
These teapot shapes continue to  interest me. I set up part of my favorite collection outside on a glass table when it was nice and sunny outside. I also put some mirrors behind the teapots to capture their reflections and add depth to the composition. It was tricky setting the mirrors up against the chairs, as they have a tendency to slide down since they're so small. I also have to deal with the breeze, as sometimes it blows objects down. It's always a good idea to work quickly! After that I photograph the set-up from many angles. Most of the time I work from my photos. In the past I have drawn the design from the actual set-up, but it's a longer process and I like to streamline it so I can start painting sooner.
I began the painting at the top — the reflections in the mirrors — and worked my way into the center, and lastly the foreground.
I feel this is a successful painting because the spouts lead the viewer's eye into the picture and around. The repetition of the circular lids and teapot shapes gives the painting harmony.
Want to Buy It?
Format
Size
Price
Original

21″ × 14″

Frosted gold metal frame (22" x 30") with single white mat

Print

8″ × 10″

Actual image size is 6.67″×10″.

Print

11″ × 14″

Actual image size is 9.33″×14″.

Print

16″ × 20″

Actual image size is 13.33″×20″.
*Frame and mats not included unless noted. Shipping costs are for the continental U.S. Ordering help & policies.