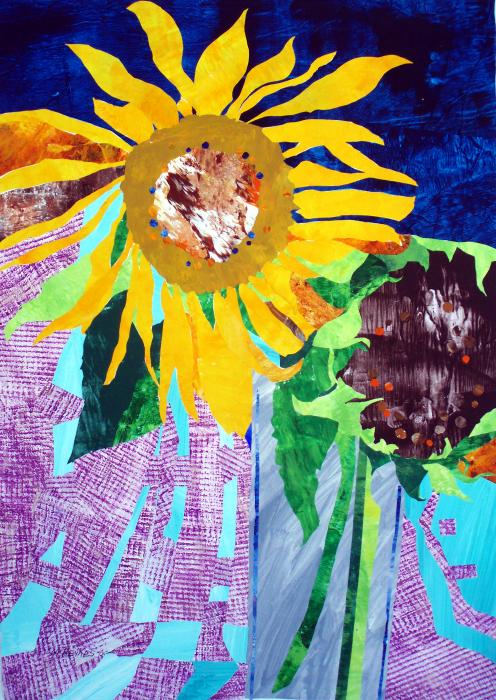 Heliotropes at Midnight
Acrylic collage
This vertical composition of sunflowers continues to fascinate me. It is my favorite flower — a showy, bright flower, in endless varieties! These blooms are from my garden last year, teamed up with a striped cloth bought at the farmers market. For the sake of design, the cloth is altered, emphasizing the flowers. The textured papers are hand-painted, and part of the purple-hued cloth is actually the frottage technique using oil pastels with acrylic paint on top of it. Lately I have been experimenting with other ways of applying paint to the papers.
Want to Buy It?
Format
Size
Price
Original

15″ × 22″

Framed in 27x20 silver standard metal frame. Double mats of light beige and sand.

$565.00

|
Print

8″ × 10″

Actual image size is 6.82″×10″.

$20.00

|
Print

11″ × 14″

Actual image size is 9.55″×14″.

$30.00

|
Print

16″ × 20″

Actual image size is 13.64″×20″.

$45.00

|
*Frame and mats not included unless noted. Shipping costs are for the continental U.S. Ordering help & policies.