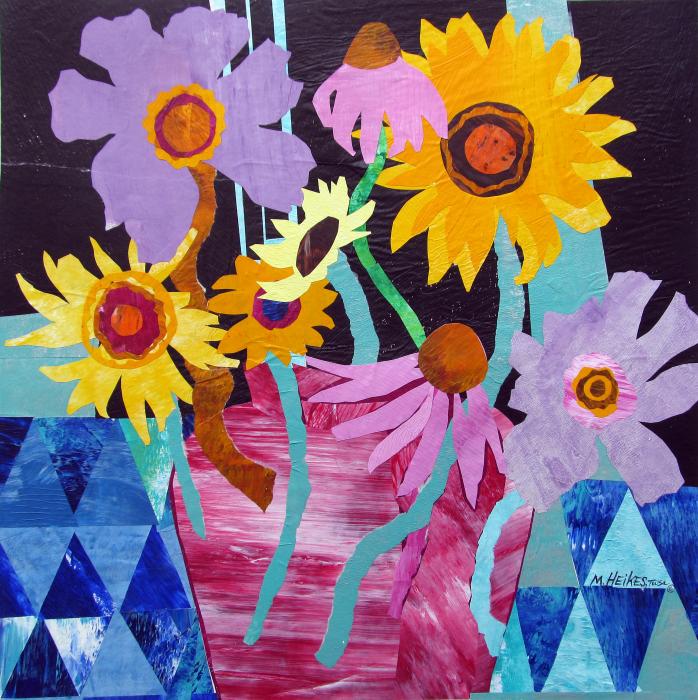 Dreaming of Sunflowers & Blue Triangles
Acrylic collage
The inspiration for this collage is my continuing fascination of flowers. Their shapes, colors and all the small details are endless. They symbolize freshness and beauty.
I always begin by doing a series of drawings to familiarize myself with their personalities and character. Each blossom is unique. I do take reference photos, but drawing from life is much more important to have your model right in front of you. I write down color notes and other important information in my sketchbook that I have handy when beginning the painting.
This particular collage is important to me because flowers have uplifted my spirit after receiving the news that I had breast cancer and would need surgery, chemotherapy and radiation treatments. I will begin the treatments soon and find that sunflowers make me happy and painting them soothes and calms my soul. I have added coneflowers and cosmos flowers too, because I love the spectacular violets and lavenders. They are difficult to duplicate with pigments and I usually blend more than one color to get close to the actual hue.
I did not do a specific thumbnail sketch for this, but combined a few drawings and edited during the shape-cutting process. All of my acrylic papers are hand-painted before beginning the actual collage. If I need a different hue, I will go ahead and paint it. Drying time is usually within twenty-four hours, which is one of the reasons I like working with acrylics. Each hand-painted sheet is different, depending how much pigment I use and how many hues I combine on the paper. The thick pigments are great because they add texture and colors are variegated. The vase was a much darker red when I began, but decided it needed a lighter value. That is another bonus of collage: papers can be glued over sections or shapes to correct value and color. I particularly like the black shapes which add great contrast to the design.
Want to Buy It?
Format
Size
Price
Original

16″ × 16″

Silver metal frame (20" x 20") with white mat

Print

8″ × 10″

Actual image size is 8″×8″.

Print

11″ × 14″

Actual image size is 11″×11″.

Print

16″ × 20″

Actual image size is 16″×16″.
*Frame and mats not included unless noted. Shipping costs are for the continental U.S. Ordering help & policies.