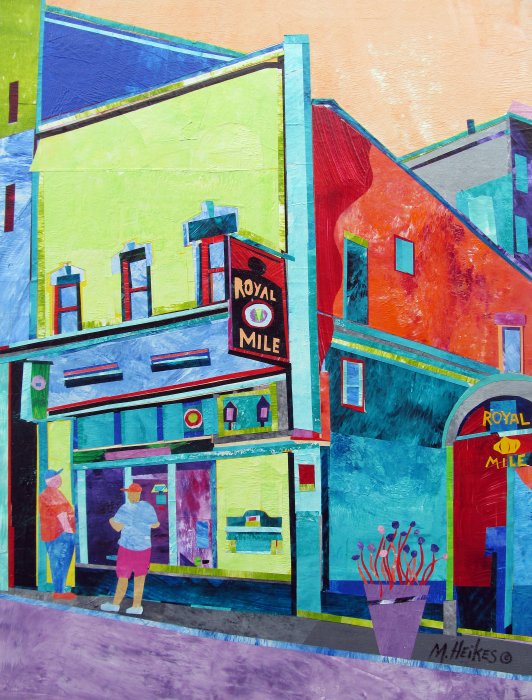 Guy in Pink Shorts at the Royal Mile
Acrylic collage
My inspiration for this collage was my love of the shapes of the different buildings in downtown Des Moines, Iowa. We were visiting the Farmers Market, which was a perfect opportunity to snap a few photos of the buildings while enjoying the market atmosphere. I was attracted to the colors and details of this familiar and popular establishment.
I did a quick sketch to design my composition to fit the support I intended to use. The tempered hardboard remains flat, as other supports have a tendency to buckle or warp. I used gesso to prepare the board before applying the paper collage shapes. Most of the time I do not copy the colors from my photo, but choose compatible colors of my liking from my collection. I hand paint all my acrylic papers a few times a year and have a large supply to choose from. Initially the colors I chose did not satisfy me and I changed a few of them while progressing this collage. My problem was the center-of-interest storefront. I changed this twice before it felt right to me. Somehow the colors clashed and were discordant.
That is why collage is the perfect medium; it is forgiving and you can change and edit endlessly. Sometimes the color choices flow easily and other times it seems to be a struggle to get the colors and shapes to flow and mingle that appear compatible and working together in unity and harmony. This happens to all artists no matter how many years you have been creating. Some days flow effortlessly and other days it takes a while to organize and get the composition working.
I added the figures and added the guy with the pink shorts for color. The two figures are having a conversation. I added the sidewalk planter on the right hand side for balance. The painting is successful and I am happy that I changed the colors.
Want to Buy It?
Format
Size
Price
Original

18″ × 24″

Flat chrome metal frame (24" x 30") with white mat

Print

8″ × 10″

Actual image size is 7.5″×10″.

Print

11″ × 14″

Actual image size is 10.5″×14″.

Print

16″ × 20″

Actual image size is 15″×20″.

Notecard Set

7″ × 5″

Package contains 6 designs of your choice on folded cards. Actual image sizes vary. Blank inside. Envelopes included.
*Frame and mats not included unless noted. Shipping costs are for the continental U.S. Ordering help & policies.