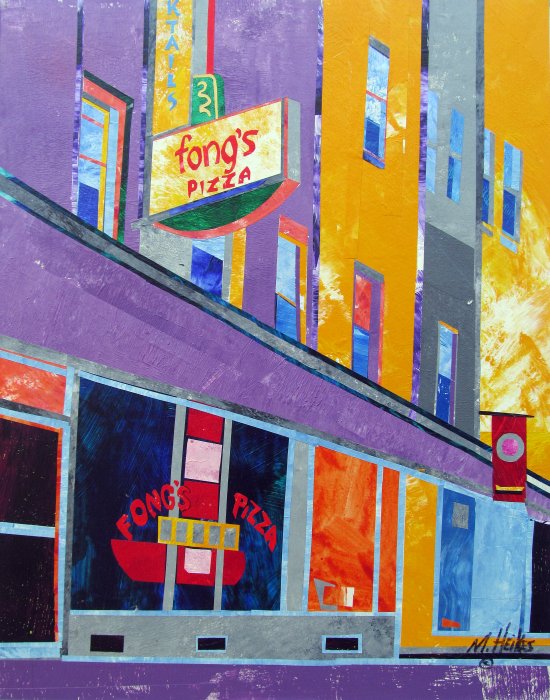 Fong's Pizza & Cocktails on Fourth Street
Acrylic collage
This painting is part of my downtown Des Moines cityscape series. I find cities exciting to sketch and paint because the possibilities are endless. The process begins with taking a lot of reference photos, from different viewpoints and angles. I find that a sunny day is the best time for me to take pictures with a strong light pattern. After choosing a photo to work from, I will do some preliminary sketches. I find it helps to limit the number of shapes and colors.
What attracted me to this particular building was the signage and architecture. It is a unique structure and using collage best describes my impression of it. The most difficult part of constructing my collages is choosing which pigments to include. I gather all my hand-painted acrylic papers and choose an assortment. I lay the colors next to each other to see which colors look best together. This is an intuitive process and I make an effort to construct each painting as a unique piece and not choose the same color combinations. Sometimes a hue will carry over from the last artwork, but I like to achieve a variety in my color combinations.
This is always more difficult than it sounds. Picasso is well known for his "blue period." All artists have favorite colors. Colors have various meanings. In this particular painting I have limited the colors to yellow, purple, and blues with some red accents. White and black were also use to tint and tone the pigments. All of my palette color papers  are hand-painted, using either a brayer or stiff oil painting brush, with thick acrylic paints. Using this method adds textures to my painting that I can not get using a fluid acrylic paint.
Want to Buy It?
Format
Size
Price
Original

16″ × 20″

Black wood frame (22" x 26") with white mat

Print

8″ × 10″

Print

11″ × 14″

Actual image size is 11″×13.75″.

Print

16″ × 20″

Notecard Set

7″ × 5″

Package contains 6 designs of your choice on folded cards. Actual image sizes vary. Blank inside. Envelopes included.
*Frame and mats not included unless noted. Shipping costs are for the continental U.S. Ordering help & policies.