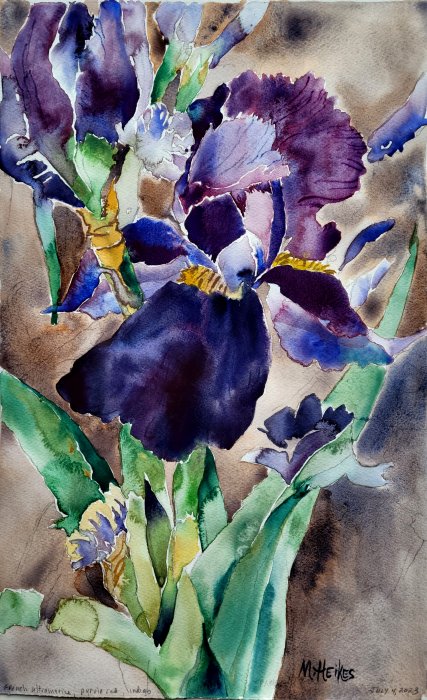 Fourth of July Irises
Watercolor
I am constantly inspired by my garden flowers because their shapes and colors provide endless designs and spread cheerfulness. I always begin sketching these flowers from life, and add detailed notes that help when I begin painting them. When drawing from life, there are more details to notice, as opposed to working from a flat photograph. Occasionally I do work with reference photos, but my sketches are lively and full of information I need to begin painting them. I mixed the purple-violet colors with French Ultramarine Blue and Pyrrole Red and some Indigo. The main focus is the blooms, so I kept the leaves understated.
Want to Buy It?
Format
Size
Price
Original

11 ¼″ × 17 ½″

No frame (15.5" x 22") with white mat

Print

8″ × 10″

Actual image size is 6.43″×10″.

Print

11″ × 14″

Actual image size is 9″×14″.

Print

16″ × 20″

Actual image size is 12.86″×20″.
*Frame and mats not included unless noted. Shipping costs are for the continental U.S. Ordering help & policies.