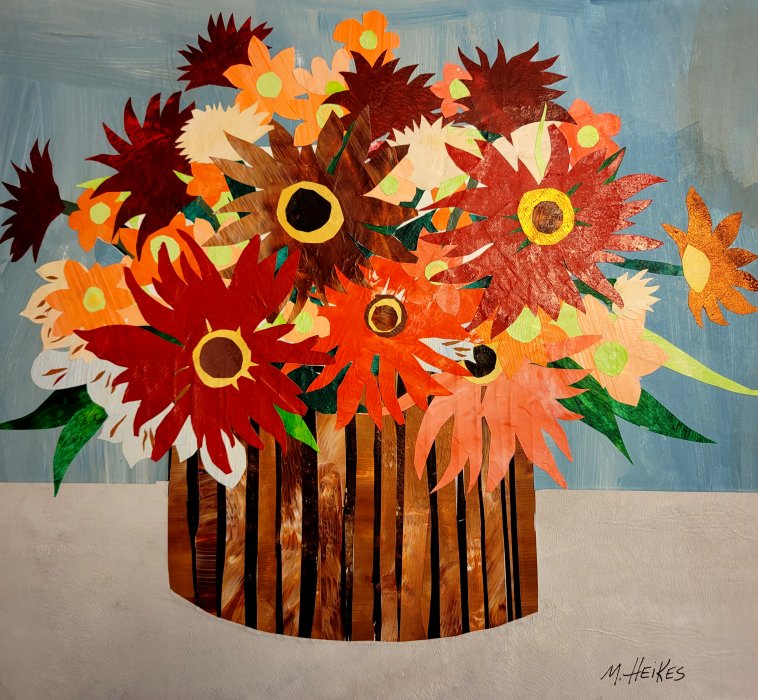 Autumn Joy
Acrylic collage
This acrylic collage is part of my botanical series focusing on Autumn colors and designs. I favor square formats and this piece is smaller than the larger formats I have done in the past. I used my sketches of a bouquet of Autumn flowers. The colors featured are typical of fall: burnt orange, deep red, cinnamon, sienna and white.
I work from background to foreground and cut my pre-painted acrylic papers into the simple shapes of the flowers. Collage is a simple medium that can be used by artists of all ages. Any "mistakes" or unwanted colors can be painted over using paint or other shapes. I usually go with the flow and allow things to happen, not following my sketch or photo faithfully. The end product usually surprises me and also better in the long run — not a tightly configured composition.
Want to Buy It?
Format
Size
Price
Original

12 ½″ × 12″

Red metal frame (16" x 16") with white and gray mats

Print

8″ × 10″

Actual image size is 8″×8.33″.

Print

11″ × 14″

Actual image size is 11″×11.46″.

Print

16″ × 20″

Actual image size is 16″×16.67″.
*Frame and mats not included unless noted. Shipping costs are for the continental U.S. Ordering help & policies.