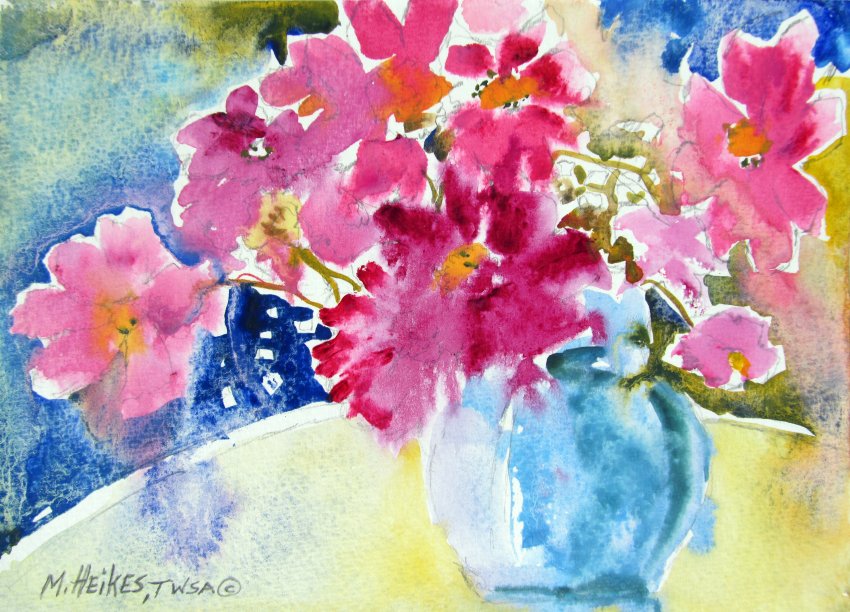 November Cosmos Bouquet
Watercolor & gouache
My inspiration for this petite watercolor was a photo taken of my last bouquet, which was picked from our last garden in Centerville. I love the luscious magenta and pink colors of these flowers and their simple shapes. Their centers are bright yellow with dots of dark brown.
The challenge was painting using a small format. I had a perfect scrap of watercolor paper. I am more comfortable painting on a larger sheet of water, and it sometimes feels restrictive to paint small. After wetting the paper on both sides and waiting until it was dry, I sketched the basic shapes of the bouquet and thought of which pigments to use. My favorite tubes of artists colors include Daniel Smith, M. Graham and Winsor Newton. They are quality paints and I frequently paint straight out of the tube and apply the colors on wet/damp paper.
My goal is to paint a soft and loosely-painted artwork. I added some gouache to this for an opaque quality which appears to have more body and thicker pigments of the surface of the paper. This painting was painted alla prima — in one sitting.
Want to Buy It?
Format
Size
Price
Original

8″ × 6″

White wood frame (11.25" x 11") with silver & white mats

Print

8″ × 10″

Actual image size is 7.5″×10″.

Print

11″ × 14″

Actual image size is 10.5″×14″.

Print

16″ × 20″

Actual image size is 15″×20″.
*Frame and mats not included unless noted. Shipping costs are for the continental U.S. Ordering help & policies.