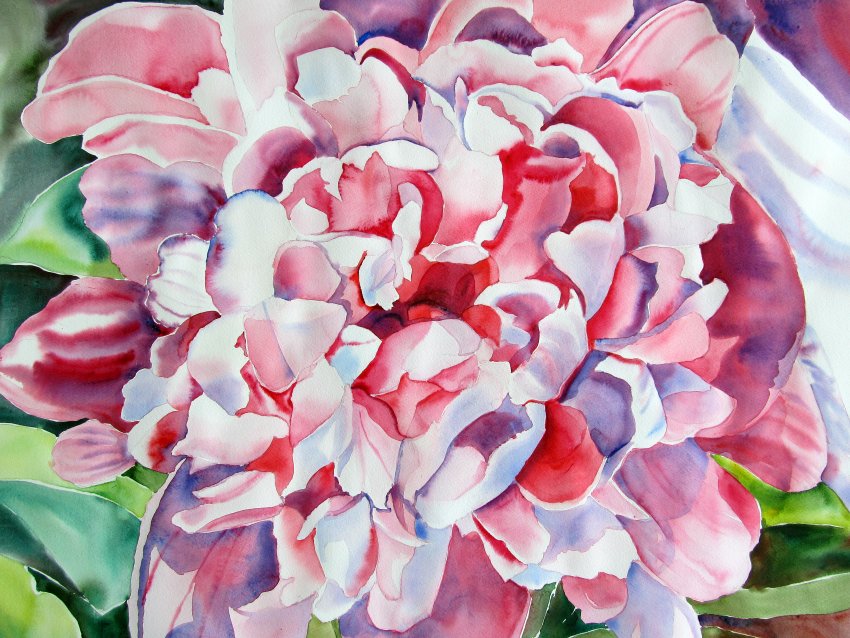 Pastel Beauty
Watercolor
Flowers are one of my favorite subjects to paint!  I am anxious for spring to come so I can paint more flowers from our garden.  I used a photo from my reference files, a great big luscious peony.  I am also a big fan of Chinese brush painting and have learned that in China, the Peony is known as the King of all Flowers.  It is the epitome of nobility and symbol of longevity.
For this painting I have tackled the blossom's complex structure — peonies can have up to 500 petals.  I have simplified this flower and zeroed in for a close-up view of it. The pigments I used are quinacridone red, quinacridone coral, ultramarine blue, sap and thalo greens, and burnt orange. I begin with a fairly detailed pencil drawing because I love to draw, and I feel the curled shapes of the petals are important.  The drawing is the structure of all my designs and I take the opportunity to think about pigments I will use and the process of painting while sketching the composition.  Drawing ignites the intuitive process and quiets my mind so I can focus on the painting.
Want to Buy It?
Format
Size
Price
Original

24″ × 18″

Gold metal frame (24" x 30") with single white mat

Print

8″ × 10″

Actual image size is 7.5″×10″.

Print

11″ × 14″

Actual image size is 10.5″×14″.

Print

16″ × 20″

Actual image size is 15″×20″.
*Frame and mats not included unless noted. Shipping costs are for the continental U.S. Ordering help & policies.