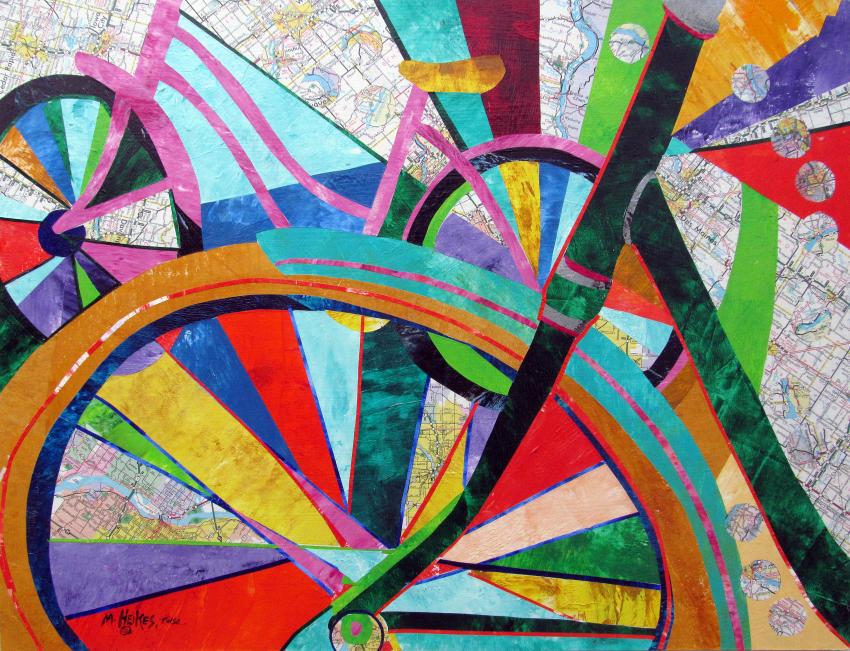 Pedal Power
Acrylic collage
I have been inspired by bicycles and decided to begin a fourth design in early August. It's been a busy summer and taken me almost a month to complete this. Drawing is the foundation of all my work and I love doing loose, contour drawings to begin my piece. I believe contour drawing provides a lyrical line and poetic shapes and adds whimsy to my work.
This design is a close-up of one of the wheels. I was attracted to the triangular spaces between the spokes. Pieces of Iowa map with the Missouri and Mississippi rivers provide more interest. Circular shapes have also been a large part of my collage designs. They convey movement and are essential to the design. My major colors are a variety of reds, greens, yellow and blues.
Want to Buy It?
Format
Size
Price
Original

27″ × 21″

Print

8″ × 10″

Actual image size is 7.78″×10″.

Print

11″ × 14″

Actual image size is 10.89″×14″.

Print

16″ × 20″

Actual image size is 15.56″×20″.

Notecard Set

7″ × 5″

Package contains 6 designs of your choice on folded cards. Actual image sizes vary. Blank inside. Envelopes included.
*Frame and mats not included unless noted. Shipping costs are for the continental U.S. Ordering help & policies.